Fired up after the successful Crew Dragon In-Flight Abort Test, SpaceX's Elon Musk predicts catching future Crew Dragon in the net of Ms. Tree.
Read More
---
Space Exploration Technologies Corporation hit a major milestone in their Commercial Crew partnership with NASA in the early morning hours of March 2, 2019. Thundering off the launchpad at LC-39A, Kennedy Space Center, a brand new Falcon 9 rocket lifted a brand new Dragon capsule designed to carry human beings to the International Space Station. Alternately called "Dragon 2" and "Crew Dragon" by SpaceX CEO and Lead Designer Elon Musk, this maiden (uncrewed) flight is a critical step in both SpaceX and NASA certifying the spacecraft for future human flights.
Read More
---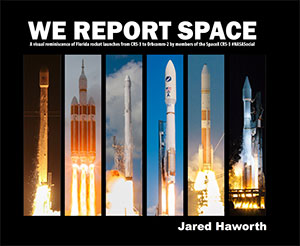 The Book
Stunning, full color photo book covering every east coast launch spanning 2014-2015, including the first-ever powered landing of a SpaceX Falcon 9 rocket.
More Info