Axiom Space launches AX-2 mission on SpaceX Falcon 9
---
Kennedy Space Center, FL. - On Sunday, May 21, 2023, SpaceX launched a Falcon 9 rocket and the Axiom 2 mission to the International Space Station ISS). Liftoff came at 5:37 PM EDT from Launch Complex 39-A when the first stage booster roared to life, lofting the crew towards orbit. Aboard Dragon "Freedom" are former NASA astronaut and Mission Commander Peggy Whitson, Pilot John Shoffner, and Mission Specialists Ali AlQarni and Rayyanah Barnawi of the Kingdom of Saudi Arabia into orbit on a mission to conduct scientific research, outreach, and commercial activities on the orbiting laboratory.
Dragon "Freedom" previously supported the Crew 4 mission back on April 27, 2022 and returned to Earth on October 14, 2022 splashing down off the Florida coast.

In a statement from NASA: "Congratulations to Axiom, SpaceX, and the Axiom Mission 2 crew on a successful launch! During their time aboard the International Space Station, the Ax-2 astronauts will carry out more than 20 scientific experiments, helping us better understand space radiation, weather in low-gravity conditions, and more," said NASA Administrator Bill Nelson. "This mission is more proof of NASA's commitment to help our industry partners develop the next generation of space technology and a support a growing commercial space economy."

After orbiting the Earth for about 16 hours, the Axiom 2 crew arrived at the I.S.S. docking at the Harmony Module of the I.S.S. and joined the Expedition 69 crew already aboard bringing the number of astronauts aboard the station to 11 on May 22, 2023. The Axiom 2 crew is planning a stay aboard the I.S.S. till May 30, 2023 and will undock and then de-orbit with a planned splashdown off the Florida coastline. Shortly after launch, the first stage booster made a successful landing at LZ-1, marking the first time a Falcon 9 carrying crew has made a "return to launch site" landing.

---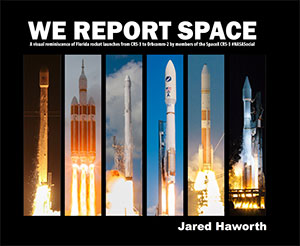 The Book
Stunning, full color photo book covering every east coast launch spanning 2014-2015, including the first-ever powered landing of a SpaceX Falcon 9 rocket.
More Info