Backdropped against a blue sky tinged orange by the setting sun, SpaceX's third flight-proven Falcon 9 rocket launched the EchoStar 105 / SES-11 satellite from Kennedy Space Center's Launch Complex 39A.
Read More
---
Actor Gary Sinise brought his 13-member Lt. Dan Band to the King Center in Melbourne on Friday to entertain service members from Patrick Air Force Base. Before the 7:30 PM show, Colonel Walter Jackim recapped the past several weeks: "We had air rescue crews helping people in Texas after Hurricane Harvey. We launched and landed the SpaceX Orbital Test Vehicle Mission. We dealt with Hurricane Irma's affects in Florida, and we've been monitoring the nuclear detonations in North Korea. The saying is "Work Hard, Play Harder" and I can think of no one better to help us play harder than Gary Sinise".
Read More
---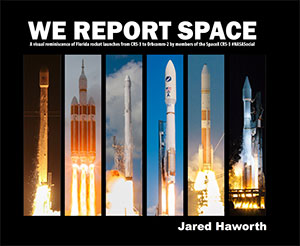 The Book
Stunning, full color photo book covering every east coast launch spanning 2014-2015, including the first-ever powered landing of a SpaceX Falcon 9 rocket.
More Info