November 26, 2018 at 2:54 PM Eastern Standard Time JPL reported InSight was on the ground at Elysium Planitia.

For approximately one hour Monday, a number of members of the EDL Team (Entry, Descent, Landing) provided insights and commentary about the landing of InSight Mars Landing.
Read More
---
One week ago (November 19, 2018) Northrop Grumman's Cygnus pressurized cargo freighter arrived at and berthed with the International Space Station. The rocket had launched two days prior, on November 17, from the Mid-Atlantic Regional Spaceport at Wallops Island, Virginia.  This was the ninth launch of Antares from Virginia, and the first overseen by the new Northrop Grumman Innovation Systems, a division formed by NG's acquisition of Orbital ATK earlier this year.
Read More
Northrop Grumman's debut Antares mission CRS NG-10 is targeting a launch to the International Space Station no earlier than 4:49am EST, November 15, 2018.  Antares will deliver a fully loaded Cygnus cargo freighter on orbit roughly two days after launch.  The cargo onboard Cygnus contains the following: 2606 lbs of crew supplies, 2253 lbs of science investigations, 64 lbs of spacewalk material 2183 lbs of vehicle hardware and 253 lbs of computer resources.  Here's a look at a few of the experiments being carried to the International Space Station.
Read More
---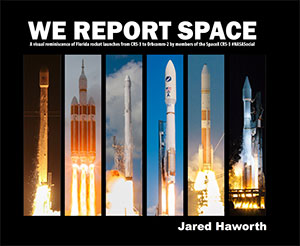 The Book
Stunning, full color photo book covering every east coast launch spanning 2014-2015, including the first-ever powered landing of a SpaceX Falcon 9 rocket.
More Info