SpaceX Crew Dragon Splashes Down
---
Kennedy Space Center, FL. – A Dragon comes home.
SpaceX sent the Crew-5 members back to earth on March 11, 2022 aboard their Dragon space capsule Endurance. Seen streaking across the night skies over Pinellas & Hillsborough County, the capsule came through the upper atmosphere on its way to a landing in the Gulf of Mexico near Tampa at 9:02 PM EST. Aboard Endurance were Roscosmos cosmonaut Anna Kikina, Japanese astronaut Koichi Wakata of the Japan Aerospace Expoloration Agency (JAXA) and NASA astronauts Nicole Mann and John Cassada. The Crew-5 astronauts were aboard the International Space Station (ISS) for 157 days after starting their journey to the ISS back on October 5, 2022.
In a statement from NASA: "Welcome home, Crew-5! This international crew has been conducting critical science experiments and technology demonstrations on the International Space Station that will help prepare us for future deep space missions and pave the way for our return to the Moon," said NASA Administrator Bill Nelson. "Each advancement these explorers make is not an achievement for one, but a giant leap for all of humanity." Dragon capsule Endurance will now undergo testing and preparations as it awaits its next mission.
---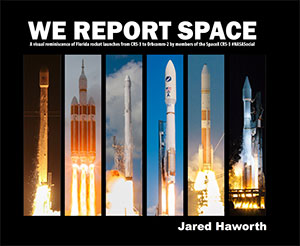 The Book
Stunning, full color photo book covering every east coast launch spanning 2014-2015, including the first-ever powered landing of a SpaceX Falcon 9 rocket.
More Info