SpaceX's landmark 50th Falcon 9 launch, lifting HispaSat 30W-6 to orbit took place shortly after midnight on Tuesday, March 6, 2018 from Space Launch Complex 40.  Marked as the heaviest satellite that SpaceX has lifted to Geostationary Transfer Orbit (GTO), HispaSat 30W-6 replaces the 30W-4 satellite covering the Mediterranean Sea and provides new Ka-, Ku- and C-band transponders to Europe and Latin America over the next 15 years.
Read More
---
A United Launch Alliance Atlas-V rocket lifted the GOES-S weather-tracking satellite to orbit. The launch occurred at the top of the launch window, 5:02 PM on March 1, 2018. The weather was perfect - the 45th Space Wing Weather Squadron announced a 0% probability of violating weather constraints. The rocket was flying with the extra-large fairing that is five meters in diameter instead of the usual four. Because of the mass of the satellite, four external solid rocket boosters were attached to the Atlas V to provide additional lift. Those extra engines provided a beautiful white trail of smoke as the rocket ascended.
Read More
---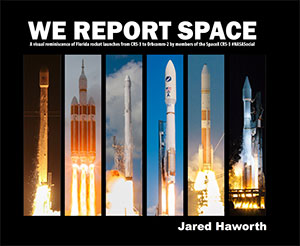 The Book
Stunning, full color photo book covering every east coast launch spanning 2014-2015, including the first-ever powered landing of a SpaceX Falcon 9 rocket.
More Info