Astronaut Jon McBride appeared at Kennedy Space Center today to introduce the Summer of Mars. He pointed out that the first astronauts who will make it to Mars are currently between the age of 8 and 18. The KSC Visitor Center is offering free admission this summer to any student who is entering fifth grade this fall.
Read More
---
The KSC Visitors Center drew a large crowd today for a special appearance by Astronaut Scott Kelly. During his nearly one hour of remarks, he proved he is a funny guy, delivering several laughs.
Read More
It was the 100th launch from Pad 39-A, but a Dragon capsule being re-used from CRS-4 was the star of the launch. At 5:07 PM EDT on June 3, 2017, SpaceX launched a Falcon-9 rocket with about 6,000 pounds of research equipment, cargo and supplies headed towards the International Space Station.
Read More
---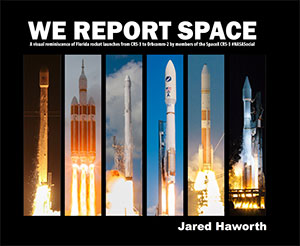 The Book
Stunning, full color photo book covering every east coast launch spanning 2014-2015, including the first-ever powered landing of a SpaceX Falcon 9 rocket.
More Info