About We Report Space
---
We Report Space: Get an insider's look at the current state of the US Space Program, go behind the scenes at NASA's Kennedy Space Center and Cape Canaveral Air Force Station, and see how cutting edge technology and photography techniques meld to create stunning images and videos of launches from the closest possible vantage points.  In addition to amazing launch photography, relive the experiences of other everyday people invited to be a part of the NASA Social program, and given front-row access to report on what's new in space.
What We Report
We Report Space covers NASA, SpaceX, United Launch Alliance and Orbital ATK missions from Cape Canaveral, Florida and Wallops Island, Virginia.  Our accredited photography team has access to set cameras at each active launch pad, sometimes just a few dozen yards from the most powerful rockets currently in use.
Why Social Media Matters
We found right away that NASA's social media efforts were like magic.  Instead of reaching several hundred guests who came to a launch or maybe a few thousand who watched it on NASA TV, you've helped us reach millions of people.  You are the eyes and ears of people around the world."  - Charles Bolden, NASA Administrator.
Our Team
---
Founders
Cape Canaveral
Wallops Island
Worldwide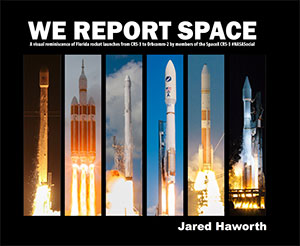 The Book
Stunning, full color photo book covering every east coast launch spanning 2014-2015, including the first-ever powered landing of a SpaceX Falcon 9 rocket.
More Info