Crew-3 Mission Now Targeting November 8, 2021
---
Kennedy Space Center, FL. – Delayed again. In a series of delays, today, November 4, 2021 it was announced that the launch of the Crew-3 mission will now take place no earlier than November 8, 2021 at 9:51 PM EST, due to weather along the flight path of the Falcon 9 and Crew Dragon.
In a statement from NASA: "The earliest possible opportunity for NASA's SpaceX Crew-3 launch is 9:51 p.m. EST Monday, Nov. 8, if mission teams do not pursue Crew-2 return on Sunday, Nov. 7 or Monday. Nov. 8."

Mission teams will make a final decision on whether to prioritize Crew-3's launch or Crew-2's return in the coming days based on the likelihood of favorable conditions for a Crew Dragon splashdown or Crew Dragon launch. NASA and SpaceX also are reviewing the time needed between launch or return operations." In addition from NASA: "The earliest possible opportunity for Crew-2 undocking from the space station is at 1:05 p.m. EST Sunday, Nov. 7, to begin the return trip to Earth for splashdown off the coast of Florida. A back-up undocking opportunity also is available Monday, Nov. 8."

Weather has been the cause of other delays as well. "These are dynamic and complex decisions that change day by day," said Steve Stich, NASA's Commercial Crew Program manager. "The weather in November can be especially challenging, so our goal is to move forward on the plan with the highest probability of mission assurance and crew safety."

Monday, November 8 also brings weather concerns for high winds at the launchpad and unfavorable conditions along the flight path.

Previously delayed for a minor medical issue with one of the Crew-3 astronauts, past scheduled attempts also included delays for weather when a decision to stand down the countdown due to a large storm system crossing the Ohio Valley and Northeastern United States, elevating wind and waves in the Atlantic Ocean along the Crew Dragon flight path back in October. The mission is now targeting November 8, 2021 at 9:51 PM EST from launch complex 39-A.

---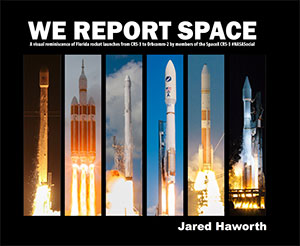 The Book
Stunning, full color photo book covering every east coast launch spanning 2014-2015, including the first-ever powered landing of a SpaceX Falcon 9 rocket.
More Info