Mary Ellen Jelen
Photographer
---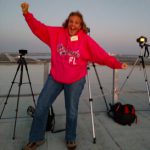 Mary Ellen Jelen retired after 30 years as a pediatric nurse. After moving to Merritt Island, Florida, she began photographing Florida wildlife such as osprey, eagles, and moved on to Falcons.
She was called in to help with Remote Camera Setup on one particular launch and began to learn from other media regulars. Her Canon SX60-HS super telephoto mode was a hit when she photographed the Falcon 9 first stage returning to Port Canaveral. Her super-organized approach to launch photography has ensured the success of the We Report Space team's efforts in fielding remote camera, always ensuring our gear is ready to go for every launch, with batteries charged, heaters programmed, and triggers firing.
She enjoys listening to stories from people who spent their lives in the Space Coast. She is a volunteer with the Air Force Space & Missile History Museum.