One week ago (November 19, 2018) Northrop Grumman's Cygnus pressurized cargo freighter arrived at and berthed with the International Space Station. The rocket had launched two days prior, on November 17, from the Mid-Atlantic Regional Spaceport at Wallops Island, Virginia.  This was the ninth launch of Antares from Virginia, and the first overseen by the new Northrop Grumman Innovation Systems, a division formed by NG's acquisition of Orbital ATK earlier this year.
Read More
---
As we disembark the buses we hear "Check item 347," and remember that the OA-9 launch team has been on the job since 10:00 pm, 5 hours earlier than us. The clouds are broken and allow us glimpses of stars, but we are also able to see clouds lighting up, and an occasional flash from a storm just offshore.
Read More
---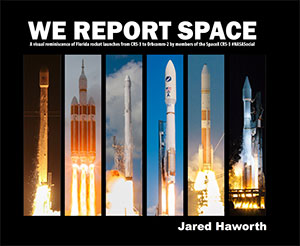 The Book
Stunning, full color photo book covering every east coast launch spanning 2014-2015, including the first-ever powered landing of a SpaceX Falcon 9 rocket.
More Info