Antares Speeds Cygnus to ISS with OA-9 Launch
---
Wallops Island, Virginia: 02:45. As we disembark the buses we hear "Check item 347," and remember that the OA-9 launch team has been "on console," or on the job, since 10:00 pm, almost 5 hours earlier than us. The clouds are broken and allow us a few glimpses of stars, but we are also able to see clouds lighting up, and an occasional flash of lightning from a storm just a few miles offshore.
Countdown and item check-off continues as cameras get set, and technical aspects of photography are discussed. Weathers apps are consulted to try and asses the weather risk to the launch. During the countdown an announcement is made that launch will be pushed to the very back of the window due to cloud cover. There is only a 5 minute opportunity.
Why 5 minutes? Payloads are limited and a balance between maneuvering fuel and launch window has been set to allow more opportunity to launch. Cygnus will end up using slightly more fuel to catch up to the ISS but a weather related scrub was avoided because of this decision.
04:30 and the countdown resumes from the planned, and slightly extended, hold. Suddenly it was "3-2-1 Ignition and liftoff." To my eyes the timimg of "ignition" and actually seeing it was slightly off, but the light flashed and suddenly Antares and Cygnus were moving. Up above the lighting towers, clear of everything and you could see the full flame and the rocket. The first cloud layer blocked everything for a few seconds, but Anteres shortly reappeared and was visible through MECO and then second stage ignition. SS J. R. Thompson was on its way to resupply the International Space Station.
With a successful launch this morning, Cygnus is expected to arrive on station Thursday, May 24. To learn more about Orbital ATK's partnership with NASA, and to follow this mission, visit http://www.nasa.gov/orbitalatk. For more information on the ISS, check out http://www.nasa.gov/station
The next Antares launch from Virginia, designated OA-10, is tentatively planned for November 2018, with launch hardware already undergoing processing at Wallops Island.
---
Purchase photos from this launch at We Had Today Photography.
Photos
---
Antares 230 / Cygnus OA-9 (Jared Haworth)
---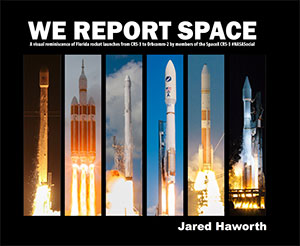 The Book
Stunning, full color photo book covering every east coast launch spanning 2014-2015, including the first-ever powered landing of a SpaceX Falcon 9 rocket.
More Info