NASA, NOAA, and several partners have started a seven-week study to characterize smoke from wildfires and agricultural controlled burns.
Read More
---
A United Launch Alliance Atlas-V rocket lifted the GOES-S weather-tracking satellite to orbit. The launch occurred at the top of the launch window, 5:02 PM on March 1, 2018. The weather was perfect - the 45th Space Wing Weather Squadron announced a 0% probability of violating weather constraints. The rocket was flying with the extra-large fairing that is five meters in diameter instead of the usual four. Because of the mass of the satellite, four external solid rocket boosters were attached to the Atlas V to provide additional lift. Those extra engines provided a beautiful white trail of smoke as the rocket ascended.
Read More
---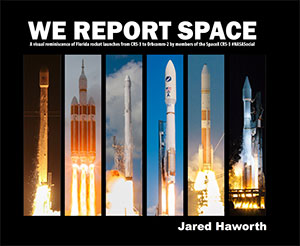 The Book
Stunning, full color photo book covering every east coast launch spanning 2014-2015, including the first-ever powered landing of a SpaceX Falcon 9 rocket.
More Info