NASA/NOAA launch GOES-T satellite
---
Cape Canaveral S.F.S., FL. – Liftoff! On March 1, 2022, United Launch Alliance launched its Atlas V 541 rocket from Launch Complex 41 lifting to orbit the Geostationary Operational Environmental Satellites (GOES) satellite. This mission, called GOES-T, is for NOAA and NASA is the third in the GOES-R series of satellites. The two hour launch window opened at 4:38 PM EST and the Atlas V roared to life at the opening of the window. Shortly after launch, the satellite was placed into orbit and the satellite changed its name to GOES-18.
In a statement from United Launch Alliance: "Thank you to NASA, NOAA and our mission partners for your teamwork to launch this important mission. This successful launch adds to the GOES-R series, the Western Hemisphere's most sophisticated weather observation and environmental monitoring system," said Gary Wentz, ULA vice president of Government and Commercial Programs. "The Atlas V delivered GOES-T directly to a geosynchronous transfer orbit. The orbital delivery accurately placed the spacecraft closer to its final destination which conserves the satellite's fuel supply and enables a longer mission life."
In a statement from NASA: "We at NASA are proud to support our joint agency partner, NOAA, and their mission to provide critical data and imagery to forecasters and researchers tracking hazardous weather," said NASA Deputy Administrator Pam Melroy. "While the GOES-R series satellites' main job is to help with weather prediction, these satellites produce observations that also help with NASA science. Our agencies' collaboration brings great benefits toward understanding our planet."
The GOES-18 satellite was placed into a geostationary orbit 22,300 miles above the Earth and will service the United States West Coast and the Pacific Ocean.
Photos
---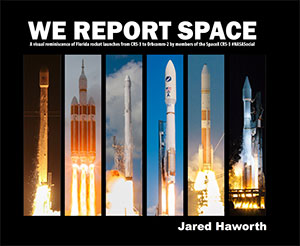 The Book
Stunning, full color photo book covering every east coast launch spanning 2014-2015, including the first-ever powered landing of a SpaceX Falcon 9 rocket.
More Info