Florida Governor Ron DeSantis visited the Space Coast today to announce an agreement with Firefly Aerospace. The company plans to build a 180,000 square foot manufacturing plant at Exploration Park. They plan on launching one of their Firefly rockets from an existing pad Launch Complex 20 North by the end of 2021 and will develop a horizontal integration facility and new launch stand at Launch Complex 20.
Read More
---
Throngs of crowds have begun arriving on the Space Coast in anticipation of the demonstration launch of the SpaceX Falcon Heavy rocket. This demonstration mission will be the first time this rocket, with 27 Merlin engines flies. Tourists from around the world are planning a trip to witness the first launch as Elon Musk attempts to put his Cherry Red Tesla Roadster into a heliocentric orbit near Mars. Here's what you need to know if you are coming for the launch and landing.
Read More
---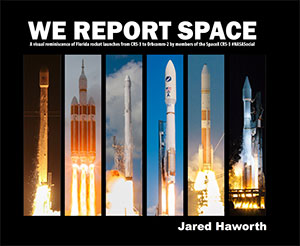 The Book
Stunning, full color photo book covering every east coast launch spanning 2014-2015, including the first-ever powered landing of a SpaceX Falcon 9 rocket.
More Info