Firefly Aerospace Launches Partnership to Build & Launch Rockets on the Space Coast
---
CAPE CANAVERAL AIR FORCE STATION: Florida Governor Ron DeSantis visited the Space Coast today to announce an agreement with Firefly Aerospace. The company plans to build a 180,000 square foot manufacturing plant at Exploration Park. They plan on launching one of their Firefly rockets from an existing pad Launch Complex 20 North by the end of 2021 and will develop a horizontal integration facility and new launch stand at Launch Complex 20.
"As the world's premiere gateway to space, Florida remains the preferred launch site for sending humans and cargo into space," said Governor Ron DeSantis. "Firefly's decision to establish launch and manufacturing activities on Florida's Space Coast confirms the commercial advantages of conducting business in our state and reaffirms Florida's position as a national leader in innovation and job growth."
"Space Florida is pleased to welcome Firefly Aerospace to the Cape Canaveral Spaceport," said Frank DiBello, Space Florida President and CEO. "Firefly's presence in the State of Florida further solidifies that Florida's Spaceport System is poised to lead the world in this next space era. We look forward to the new launch and manufacturing capabilities that Firefly brings to SLC-20 and Exploration Park, respectively."
CEO Tom Markusic: "Our Alpha launch vehicle is in the late stages of development that we hope to fly this year from Vandenberg Air Force Base. We plan to develop Launch Complex 20 for launching both our Alpha and Beta rockets. The Beta rocket is an enhanced version with the potential to lift 5 metric tons to low Earth orbit. We plan to dominate the global medium to small rocket market. We will project American economic strength. We are very excited to be here to do those things". He added: "My family grew up in northeast Ohio and I am the son of a blue collar environment. I am so excited to be here to bring twenty-first century jobs to families here in the Space Coast."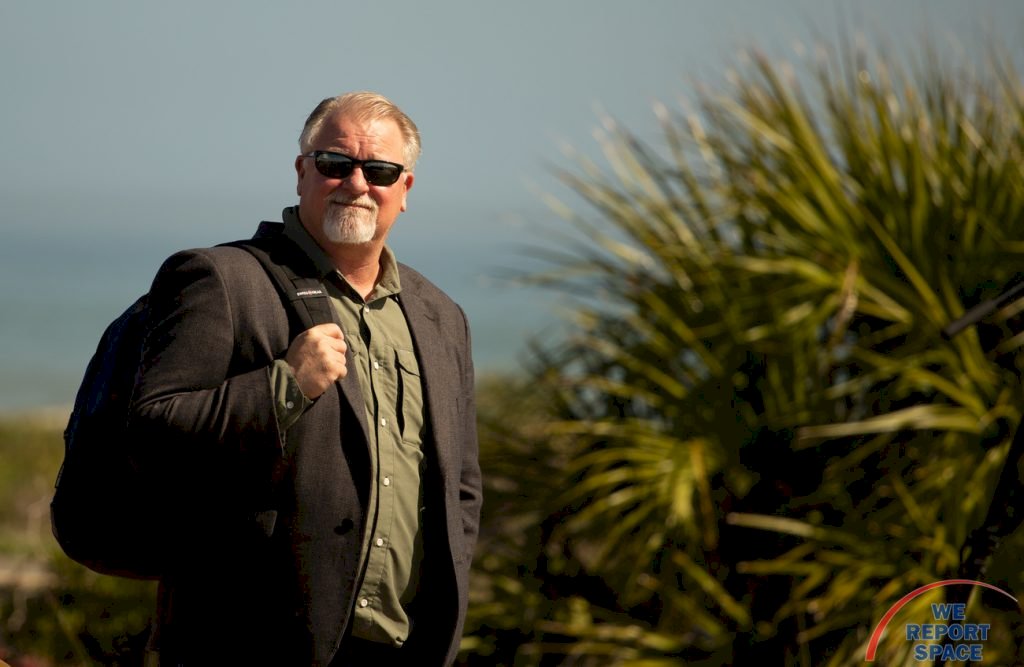 After the event, I had a chance to speak with Sean Reilly who will be overseeing launch operations for Firefly. "You will see us following a lot of what our competitors are doing. We will have a horizontal integration here at the site to check out the vehicle. Then we will roll out, erect at the pad, and then fly away from the erector. So the erector will act as both the transport vehicle and the umbilical tower."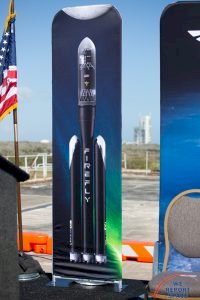 On the presentation stage, there were artist renderings of a single-stick Firefly rocket and a three-core Firefly Heavy vehicle. I asked if Sean had a feel for the mix between the two rockets. He explained, "We aren't sure yet. We have to hit our cost numbers and keep the cost clamped down. Nobody is really sure what the market is yet. There might be unrealized customers there who might have been barred from entry in the past because of the cost to launch. In the past, launch prices in the $30 to $50 million range might have been out of their reach, but maybe at $15 Million you get 10% more or 20% more. I don't know the number. In the past people looked at the small launch market and there was not a lot of demand – but that was at a $30 Million price point. If we cut that in half, that is the key for opening the market up to folks."
Currently, the company is focused on reliability and does not immediately have plans to re-use rocket cores.
---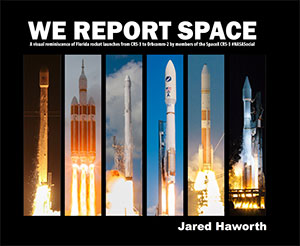 The Book
Stunning, full color photo book covering every east coast launch spanning 2014-2015, including the first-ever powered landing of a SpaceX Falcon 9 rocket.
More Info