Vice President Mike Pence visits Florida to announce new names for Cape Canaveral, Patrick facilities, as well as announcing the astronauts assigned to the Artemis mission.
Read More
---
"We were honored to partner with the U.S. Space Force to dedicate this mission to first responders, front-line workers, and those affected by COVID-19. It is truly a unique time in our history and I want to thank the entire team for their continued dedication and focus on mission success," Gary Wentz, ULA vice president of Government and Commercial Programs.
Read More
---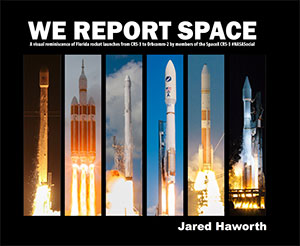 The Book
Stunning, full color photo book covering every east coast launch spanning 2014-2015, including the first-ever powered landing of a SpaceX Falcon 9 rocket.
More Info