45th Space Wing Offers Chance to See Rocket Launch Up Close
---
CAPE CANAVERAL: The 45th Space Wing announced a new "Socials" program today with an opportunity to attend the launch of AEHF-6, currently scheduled for March 19, 2020 although launch dates could slip.
According to Jim Williams at the 45th, "This program is designed specifically for social media influencers (followers of the 45th Space Wing) to provide an opportunity to learn more about who we are and what we do. I'm also hoping that this will allow individuals that aren't always able to get traditional media credentialing/access the ability to experience specific launches and events at Cape Canaveral Air Force Station and help share our story to a wider and more diverse audience. "
Winners will get to experience:
A tour of United Launch Alliance's Atlas Spaceflight Operations Center
The chance to meet representatives from the 45th Space Wing, ULA, Lockheed Martin, and the U.S. Space Force Space and Missile Systems Center
A photo stop next to the launch pad (Cape Canaveral's Space Launch Complex 41)
A visit to the Cape Canaveral Air Force Space and Missile Museum and historic LC-26 Blockhouse & LC-34 (the site of the Apollo 1 tragedy)
The opportunity to witness the Atlas V AEHF-6 launch up close on Cape Canaveral.
The deadline to apply is March 10, 2020. Those interested should make sure they qualify and then fill out the application form.
---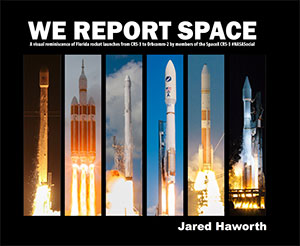 The Book
Stunning, full color photo book covering every east coast launch spanning 2014-2015, including the first-ever powered landing of a SpaceX Falcon 9 rocket.
More Info