Boeing's Starliner crew flight faces indeterminate delay
---
Cape Canaveral S.F.S. FL. – In a continuing series of setbacks for the Boeing CST-100 "Starliner" capsule, it was announced again that an additional delay for this program has taken place.
In a press release from May 26, 2023, a statement from NASA was given on the program and the progress being made: "We are taking a methodical approach to the first crewed flight of Starliner incorporating all of the lessons learned from the various in-depth testing campaigns, including Starliner's flight tests and the agency's verification efforts," said Steve Stich, manager of NASA's Commercial Crew Program. "All Orbital Flight Test-2 anomalies are closed. In addition to the closeout of ongoing work, the team remains vigilant on tracking new technical issues as we complete certification for crewed flight."

However, just days later, it was revealed that yet another delay had taken place and a targeted launch of July 2023 is now delayed. This delay includes issues with some wiring of the capsule and portions of the parachute landing system. In a statement from Boeing: "The bottom line here is safety is always our top priority," said Mark Nappi, Boeing's vice president and program manager for the Starliner spacecraft. "You can say we're disappointed because that means a delay, but the team is proud that we're making the right choices." Nappi went on to say: "We've decided to stand down the preparation for the Crew Flight Test (C.F.T) mission in order to correct these problems."
It is uncertain when "Starliner" will be ready for flight, yet all measures are being taken to insure a safe flight for astronauts Butch Wilmore and Suni Williams who will fly "Starliner" to the International Space Station. Image Credit: Michael Howard – We Report Space
---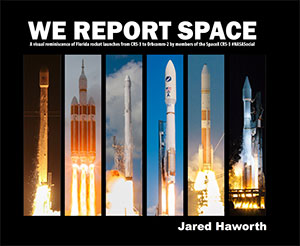 The Book
Stunning, full color photo book covering every east coast launch spanning 2014-2015, including the first-ever powered landing of a SpaceX Falcon 9 rocket.
More Info