NASA's SLS rolls out for Artemis I Mission
---
KENNEDY SPACE CENTER, FL -- Overnight from Tuesday, August 16 to Wednesday, August 17, NASA's newest heavy lift rocket, the Space Launch System, traversed the nearly four miles from the Vehicle Assembly Building to Launch Complex 39B, in preparation for the opening of the Artemis I launch window on August 29, 2022.
SLS had previously been rolled to LC-39B for Wet Dress Rehearsals, most recently on June 20, 2022. Following each trip to the launchpad, the rocket returned to the VAB for follow-up maintenance work resulting from those tests.
Slated to launch in the 2-hour window opening at 8:33am EDT, NASA will send the Artemis I Orion spacecraft on an uncrewed journey to lunar orbit for a dress rehearsal of sorts for a number of systems required for the next human spaceflight mission to Earth's natural satellite.

The mission, slated to last between 26 and 42 days will validate the performance and safety of NASA's newest rocket, paving the way for Artemis II to carry human beings farther into space than they've traveled in the past 50 years.
---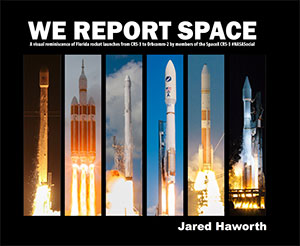 The Book
Stunning, full color photo book covering every east coast launch spanning 2014-2015, including the first-ever powered landing of a SpaceX Falcon 9 rocket.
More Info