ULA, Boeing deliver Starliner spacecraft to orbit
---
Kennedy Space Center, FL. – Liftoff of the Starliner and the Orbital Flight Test 2 (OFT-2) mission! Yesterday evening, May 19, 2022, the United Launch Alliance Atlas V, in the N22 configuration, and the Boeing Starliner capsule lifted off from Space Launch Complex 41. Liftoff occurred at 6:54 PM EDT and now the Boeing CST-100 Starliner is now in orbit heading to the International Space Station (ISS).
Starliner is carrying approximately 500 pounds of cargo and supplies as well as "Rosie the Rocketeer", an anthropometric test device.

In a statement from NASA: "I am so proud of the NASA, Boeing and United Launch Alliance teams who have worked so hard to see Starliner on its way to the International Space Station," said NASA Administrator Bill Nelson. "Through adversity, our teams have continued to innovate for the benefit of our nation and all of humanity. I look forward to a successful end-to-end test of the Starliner spacecraft, which will help enable missions with astronauts aboard."
In a statement from United Launch Alliance: "We are proud of our partnership role with Boeing in NASA's Commercial Crew Program and want to thank our mission partners as this is truly a collective accomplishment," said Tory Bruno, president and CEO, United Launch Alliance. "The successful launch today marks the first critical step toward the future of humans' spaceflight onboard an Atlas V and we look forward to the remainder of the mission and to safely flying astronauts in the future."

Originally scheduled for July 30, 2021, the launch was delayed to August 3, 2021 due to a situation with the International Space Station. During the launch activities, there was a scrub of the flight due to Starliner valve issues. These valve issues required the return of the Atlas V to the Vertical Integration Facility and Starliner returning to the Commercial Crew and Cargo Processing Facility at Kennedy Space Center. In December 2019, OFT-1 failed to reach the ISS due to a faulty timer and made an early return to Earth landing at White Sands in New Mexico.
Starliner is scheduled to dock with the ISS around 7:10 PM EDT on Friday May 20, 2022. This is a short visit to the station as Starliner is scheduled to un-dock from the station just 5 days later on May 25, 2022 and return to Earth.
Photos
---
Atlas V / Starliner Orbital Flight Test 2
---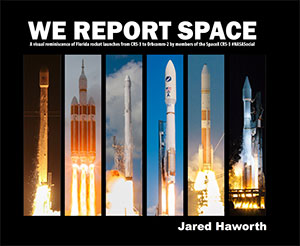 The Book
Stunning, full color photo book covering every east coast launch spanning 2014-2015, including the first-ever powered landing of a SpaceX Falcon 9 rocket.
More Info