SpaceX Sets Single-Launch Satellite Payload Record
---
Cape Canaveral S.F.S. FL- Liftoff! After a weather delay on the first launch attempt Saturday, this morning, January 24, 2021, SpaceX successfully launched the Transporter-1 mission. This is SpaceX's first dedicated SmallSat Rideshare Program mission. The 22-minute launch window opened at 10:00 AM EST and the previously flown Falcon 9 roared to life at the opening of today's window at SLC-40.
This was the fifth mission for this Falcon 9 first stage, which previously supported launch of Crew Dragon's DEMO-2 mission, the ANASIS-II mission, a Starlink mission, and launch of Dragon's 21st Cargo Resupply Mission to the International Space Station. Shortly after first stage separation, SpaceX had another perfect landing of the first stage on the recovery ship "Of Course I Still Love You". This was the 73rd successful landing of a Falcon 9 booster.
This is a very unique launch in that on board this launch are 133 commercial and government spacecraft (including CubeSats, microsats, and orbital transfer vehicles) as well as 10 Starlink satellites – the most spacecraft ever deployed on a single mission. The Starlink satellites aboard this mission will be the first in the constellation to deploy to a polar orbit.
Photos
---
Falcon 9 / Transporter - 1
---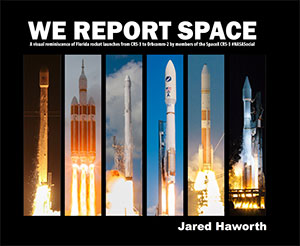 The Book
Stunning, full color photo book covering every east coast launch spanning 2014-2015, including the first-ever powered landing of a SpaceX Falcon 9 rocket.
More Info