Behnken and Hurley Name Crew Dragon Capsule as Endeavour
---
LEO: Dragon Capsule 206 has been renamed Capsule Endeavour.
In a press event from space, NASA astronaut Doug Hurley explained "there is a tradition we've had, over the years, with spacecraft going way back to the Mercury era. The tradition has been carried on ever since with all our space teams, including the Soyuz. We are given the honor to name this capsule. I know most of you, and SpaceX especially know this as Capsule 206, but all of thought that we could maybe do a little bit better than that. So without further ado, we would like to welcome you aboard Capsule Endeavour."
"We chose Endeavour for a few reasons. One is because of the incredible endeavor that NASA, SpaceX, and the United States has been on since the end of the shuttle program back in 2011. The other reason we named it Endeavour is a little more personal to Bob and I. We both had our first flight on Shuttle Endeavour. It meant so much to carry on that name. That's what we decided to go with. We hope you enjoy that name.
Astronaut Bob Behnken "Welcome on board Endeavour, the SpaceX vehicle headed towards the International Space Station. Today, we accomplished the first flight off the Florida coast in quite some time. Doug and I were really proud to have an opportunity to be a part of that. We are doing it in a brand new space ship, a space ship that is a lot different than it's namesake Shuttle Endeavour. It has a touch display screen that allow us to accomplish most of the interfacing we have. It is a nice, new modern cockpit that we have compared to our namesake the Space Shuttle Endeavour."
---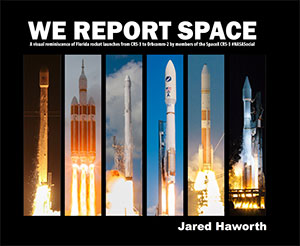 The Book
Stunning, full color photo book covering every east coast launch spanning 2014-2015, including the first-ever powered landing of a SpaceX Falcon 9 rocket.
More Info