Boeing Starliner Rolls Out for EFT-1
---
KENNEDY SPACE CENTER: Two hundred Boeing employees and their families gathered in the pre-dawn hours just north of the Vehicle Assembly Building. As all eyes were trained on the Commercial Crew and Cargo Processing Facility (C3PF), a caravan emerged. First, the new Airstream Astrovan II carrying the first three astronauts, then a group of Boeing Employees carrying a banner reading "Starliner - We Are All In". Behind them, a giant KAMAG transporter carrying the first Boeing CST-100 Starliner capsule.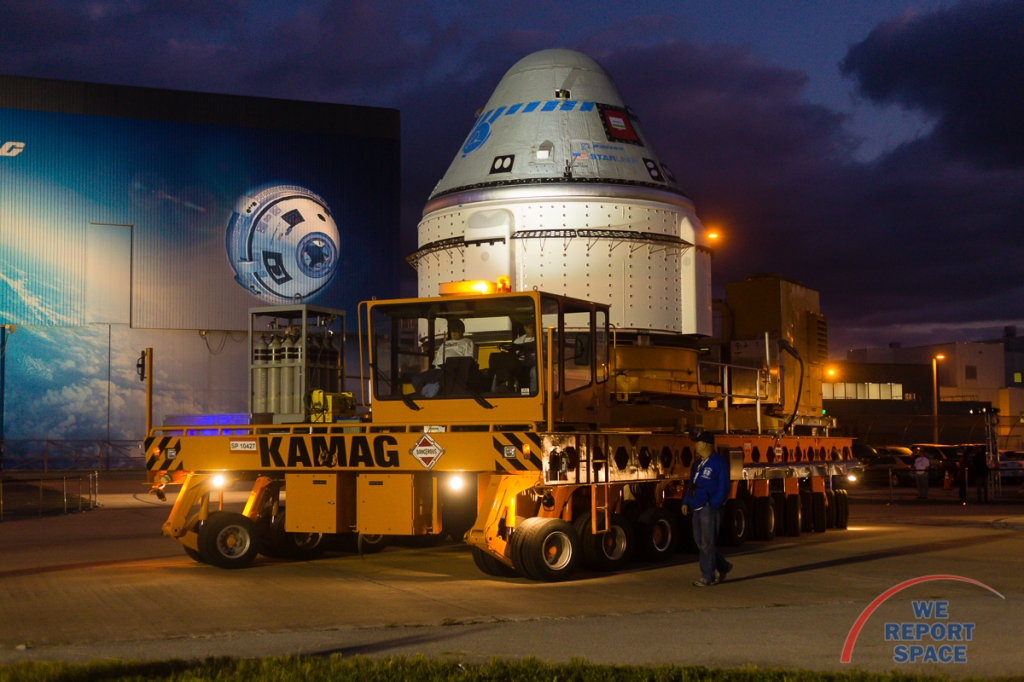 The caravan paused in the driveway of C3PF while the astronauts addressed the crowd.
KSC Director Bob Cabana: "It's been a long time since a spaceship rolled out of that building on its way to the pad to get stacked up. When the orbiter used to roll out, I always thought that was a unique moment. You'd be here at night like this, in the dark, with lights shining on it, and that's the beginning of a trip to space."
Boeing Astronaut Chris Ferguson thanked Cabana for "that beautiful facility that you let us use. And of course our partnership with United Launch Alliance where we are about to go put that awesome payload on top of a really cool rocket not too far away. C3PF (formerly Orbiter Processing Facility-3 during the Space Shuttle era) turned into a 'parts in, spacecraft out' facility and we've really never done that before here at Kennedy Space Center. And now we are doing it all, from soup to nuts. We are going to launch this baby, land it in the western US, bring it back here, and lather, rinse, and repeat, until the ISS program is over ten years from now, and then beyond. It is sort of the dawn of a new era."
Astronaut Mike Mann, who will be riding his third different spacecraft to space: "This particular spacecraft is going to go fly on what we call the Orbital Flight Test. This flight will reduce the risk for the first crewed flight test coming next year. It is a classic flight test. Kudos to Team Boeing for getting us this far. We are looking forward the day where we are launching people on a frequent basis."
Rookie astronaut Marine Lt. Colonel Nicole Mann played to the Boeing crowd. "This is an exciting time. In my house we are talking about Starliner on a daily basis. When I mentioned that I was coming to the Cape, my son, who is 8 years old, had a worried look on his face. I explained that this was an Orbital Flight Test, designed to make the first crewed flight safer. And as I explained this, my son has this look of amazement on his face and this look of admiration. And the coolest thing was that it was not for me. It was for all of you (Boeing employees) out there. It is the same amazement that I feel looking at OFT and looking at you for making it happen. Its the admiration that I have for the work that you do day in and day out. It's difficult work. It's relentless. And each day, you are crushing it. Thank you, thank you for being amazing."
The one astronaut present who did not speak was Rosie the anthropometric test device, strapped into the Starliner's commander's sear. She is equipped with hundreds of sensors that will return critical data to the Starliner team ahead of the first crewed flight. The team will be interested in the forces she experiences through launch, ascent, re-entry, and landing. Rosie the Riveter was one of the most recognizable icons of World War II - the star of a campaign that recruited women for defense industry jobs.
Launch of this spacecraft its Orbital Flight Test is currently scheduled for 7:47 AM EST on December 17, 2019.
Photos
---
Boeing Starliner Rollout Scott Schilke
---
Boeing Starliner EFT-1 Rollout (Bill Jelen)
---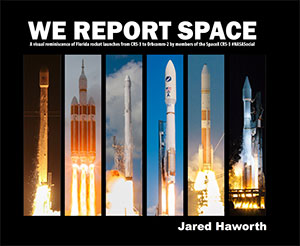 The Book
Stunning, full color photo book covering every east coast launch spanning 2014-2015, including the first-ever powered landing of a SpaceX Falcon 9 rocket.
More Info