Cygnus Pre-launch: What's On Board Antares NG-10?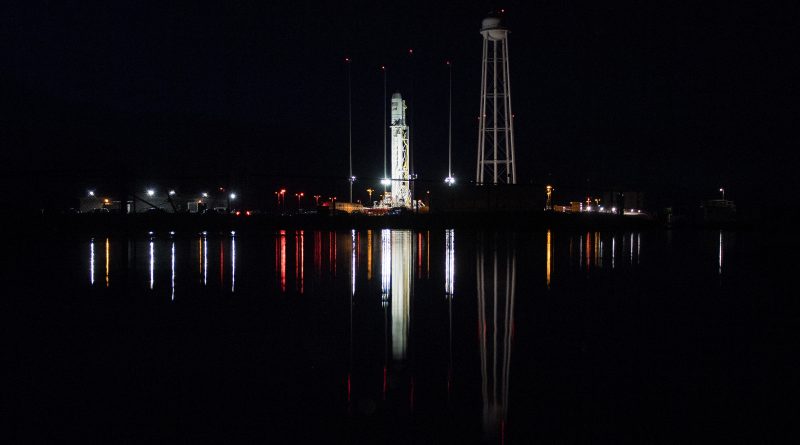 ---
Northrop Grumman's debut Antares mission CRS NG-10 is targeting a launch to the International Space Station no earlier than 4:49am EST, November 15, 2018.  Antares will deliver a fully loaded Cygnus cargo freighter on orbit roughly two days after launch.  The cargo onboard Cygnus contains the following: 2606 lbs of crew supplies, 2253 lbs of science investigations, 64 lbs of spacewalk material 2183 lbs of vehicle hardware and 253 lbs of computer resources.  Here's a look at a few of the experiments being carried to the International Space Station.
ISS/CASIS
Dr. Tara Rutley and Dr. Liz Waren presented on experiments being conducted on station, showcasing and highlighting the ISS National Lab.
Penn State discovered some crystals in the samples flown on OA-9 as part of the Microgravity Investigation of Cement Solidification, and have submitted new samples to study this aspect.
VECTION Study - aims to determine to what extent an astronaut's ability to visually interpret motion, orientation and distance may be disrupted in a microgravity environment.
Experimental Chondrite Formation (EXCISS) - is intended to simulate the high-energy, low gravity of the early solar system using automated cameras. Hopefully this will answers some of the questions about how dust in space turned into intermediate sized particles and eventually planets, moons and other objects.
Crystallization of LRRK@ under microgravity. This experiment evaluates the growth of protein crystals in microgravity. The specific protein LRRK2 or Leucine-Rich repeat kinase 2 is implicated in Parkinsons disease and it is hoped that the crystals grown in space will be easier to study than those grown on earth under standard gravity.
Refabricator
Presented by Diane Wisdon and Dr. Allison Porter, the Refabricator is an extension of an experiment to find ways to manage plastic waste on board orbital, lunar and deep space missions. The Company responsible for the recycling machine, Tethers, asked if they could extend the test and see if the waste polymers could be processed into 3-D printer filament and create test samples. The raw material will be plastic that melts at a higher temperature although the source material could be plastic packaging, plastic bags, discarded medical devices etc. The resulting filament, based on earth testing, will be a higher grade filament than is currently used on earth. The 3-D printed test subjects will resemble a small paddle shape and some will be recycled numerous times to look at the viability of reprocessing waste on long-duration missions.
Tissue Chips in Space
Dr. Siobhan Malany, President and CSO of Micro-g-Rx headlined the next experiment, Tissue Chips in Space. The Cell Growth studies were originally planned for a variety of cells from young, middle-aged, and older cell donors with a variety of physical conditioning. Due to space limitations the experiment is currently limited to 8 young, physically active subjects. The cells will be studied for growth characteristics, and examined for the normal degradation of human tissue due to low gravity conditions. The experiment will fit into a 30 x 10 cm container which will reside in a chilled portion of the ISS. During the tests the cells will be given nutrients and kept at 37 degrees C for approximately 7 days, then frozen to be returned. The experiment will include a camera to record growth and changes during the entire test period.
Student Experiment on Self Reparing Concrete
The student experiment brought on this trip by HIGHER ORBITS is testing concrete formation with bacteria cultures that could repair micro-fractures. They were unaware of both the Penn State experiment with concrete formation, and the Refabricator experiment for re-using material but they are eager to collaborate with agencies that may have a use for this process, and other groups that could help them design future experiments.
The student experiments began the process of selection, refinement and construction over 10 months ago. As on OA-9, all of the explorations, studies and experiments were compared and evaluated for space and weight, complexity and demands on the ISS crew, and apparent need or usefulness for the future. Numerous worthy experiments were not selected for various reason.
---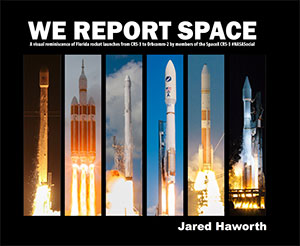 The Book
Stunning, full color photo book covering every east coast launch spanning 2014-2015, including the first-ever powered landing of a SpaceX Falcon 9 rocket.
More Info