NASA Day of Remembrance Focuses on Four Early Space Casualties
---
KENNEDY SPACE CENTER: A large crowd convened at the Kennedy Space Center Visitor Center on January 25, 2018 for the annual NASA Day of Remembrance. A focus this year was on four astronauts who perished in events other than Apollo One, Challenger, and Columbia. Family members of Charles A. Bassett II, Elliot M. See Jr., Clifton C. Williams, and Michael J. Adams shared memories of each astronaut. Also in attendance, Tal Ramon, son of Columbia crew member Ilan Ramon shared two original compositions and spoke about his father.
KSC Director Bob Cabana: "Thank you all for coming today to pay tribute to all those who's names are on the mirror outside. It was 19 years from Apollo One to Challenger. And 17 years from Challenger to Columbia. Many of the lessons learned in each case, we had to learn again. Now, 15 years after Columbia, my goal is that we do not have to learn them yet again. That we do not repeat the mistakes of the past as we move forward to fly crews to the International Space Station on commercial vehicles and we once again return to the moon and go beyond with Orion and the Space Launch System."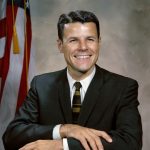 Karen Stevenson shared memories of her father, Charles A. Bassett, II. Bassett was one of the third group of astronauts named by NASA in October 1963. In addition to participating in the overall astronaut-training program, he had specific responsibilities pertaining to training and simulators. On November 8, 1965, he was selected as pilot of the upcoming Gemini 9 mission. He died on February 28, 1966, in the crash of a T-38 jet. Karen Stevenson: "I am Charlie Bassett's girl. I've never grown accustomed to missing dad. I was eight that morning when he flew from Ellington. I was just beginning to realize that he was more than my daddy. That other people cared about him, depended on him, trusted him, admired him. That he was smart and studious, gregarious, warm, funny, dedicated, and maybe just a teensy bit geeky. So many people have shared their memories of him. With each story, my understanding of him becomes more precious. She recalled a letter where he wrote, 'It's very hard work, but the fellas are all top notch, and we are learning to fly in space' with 'in space' underlined. He loved Stan Getz, Tony Bennett, and dancing with mom to Moon River."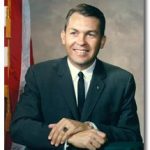 Sally Kneuven shared memories of her father, Elliot M. See, Jr. See was one of nine pilot astronauts selected in September 1962. He participated in all phases of the astronaut training program and was subsequently given responsibility for monitoring the design and development of guidance and navigation systems. He also aided in the coordination for mission planning. He was selected as pilot of the back-up crew for the Gemini 5 mission, and the command pilot for the Gemini 9 flight. Mr. See died on February 28, 1966, in St. Louis, Missouri, in the crash of a T-38 aircraft. Sally Kneuven: "I am in awe that my father's life had the power to inspire others so many years later. My father was part of an incredible fraternity, where a man should have the ability to go up in hurtling piece of machinery, put his hide on the line, and then have the moxie, the reflexes, the experience, the coolness to pull it back in that last yawning moment, and then go up again the next day, the next day, and every next day."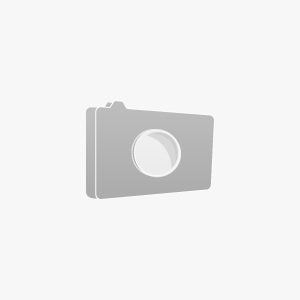 Beth Williams shared memories of her husband, Clifton C. ("CC") Williams. Williams was one of the third group of astronauts named by NASA in October 1963. He served as backup pilot for the Gemini 10 mission and worked in the areas of launch operations and crew safety. Major Williams died on October 5, 1967, near Tallahassee, Florida, in the crash of a T-38 jet. Beth Williams: "CC was a proud Mobile, Alabama boy. Having a daughter was one of the high points of his life. This is a man who left the world with his smile. He had the biggest infectious smile. He walked in a room and would spread joy."
Brent Adams shared memories of Michael J. Adams. Adams flew in a joint USAF/NASA program called the X-15. On his 7th and final X-15 flight, he flew to an altitude of 266,000 feet. Adams lost control of the aircraft and it crashed on November 15, 1967. He was posthumously awarded astronaut wings for flying to the edge of space in the X-15. Brent Adams: "I am the middle child of Michael J. Adams. My mom is still alive - she is 91. I was 9 years old on the day that my dad got killed. I remember sitting in school. Someone came and got us out of school and took us home. It was a pretty bad day. Before he was in the X-15 program, he was a member of the Manned Orbiting Laboratory. He always wanted to fly and jumped at the chance to fly in the X-15. I am thankful for everyone who remembers him. From the tiny town of Randsburg California where my father crashed. It is home to several hundred people in the middle of nowhere and they have a remembrance there in that town. They remember him here Kennedy Space Center. I remember him, where I live. I have an oil change and car wash. It's like a museum."
Tal Ramon was attending the ceremony for the first time. His father, Colonel Ilan Ramon was selected in 1997 as a Payload Specialist. He was designated to train as prime for a Space Shuttle mission with a payload that included a multispectral camera for recording desert aerosol. In July 1998, he reported for training at the Johnson Space Center, Houston, where he trained until 2003. He flew aboard STS-107, logging 15 days, 22 hours and 20 minutes in space. He died on February 1, 2003 when Space Shuttle Columbia broke apart during entry, 16 minutes before scheduled landing. Tal played two original compositions from his CD "Character" released in Israel. Tal Ramon: "I am so honored to be here for the first time in this memorial. My father was Israel's first astronaut. Some things that people don't know about my father is that his mother, my grandmother was a piano teacher. My father knew how to play a few piano pieces. After the Columbia tragedy, his piano was waiting for me at my house. The piano became a journey for me in expressing myself. I am so emotional to be here with you. I dedicated the album to my father and brother's memory. My brother was a test pilot and lost his life in an accident. Even though it was such a big tragedy, it is a victory that we are all here today to share their stories."
Also recognized was Greg Cohrs from the US Forestry Service. Cohrs was instrumental from day 1 in the recovery efforts for Space Shuttle Columbia.
Also in attendance were astronauts Apollo Astronaut Buzz Aldrin, Space Shuttle Astronaut Winston Scott, Space Shuttle Astronaut Eileen Collins, Space Shuttle Astronaut Chris Ferguson, and KSC Director and Shuttle Astronaut Bob Cabana.
Correction: an earlier version of this story incorrectly identified Greg Cohrs as working with the Texas Forestry Service, not the US Forestry Service.
Photos
---
NASA / KSC Day of Remembrance (Bill Jelen)
---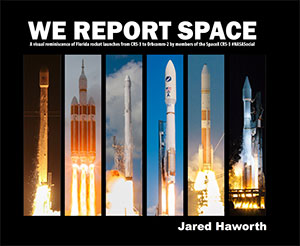 The Book
Stunning, full color photo book covering every east coast launch spanning 2014-2015, including the first-ever powered landing of a SpaceX Falcon 9 rocket.
More Info