45th Space Wing Prepares for SBIRS GEO-4 Launch on January 18, 2018
---
CAPE CANAVERAL: The Air Force's Space Based Infrared System Geosynchronous Earth Orbit Flight-4 (SBIRS GEO-4) satellite completed encapsulation on January 9th at Cape Canaveral Air Force Station, Florida. Today, on January 10, 2018, GEO-4 will make the journey to Space Launch Complex-41, where it will be mated with its Atlas V-411 rocket. It is scheduled for launch on Jan. 18, 2018, at 7:52 p.m., Eastern.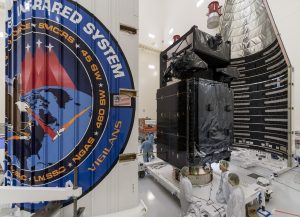 SBIRS uses infrared surveillance to provide early missile warning for the U.S. military and is considered one of the nation's highest priority space programs. The system includes a combination of satellites and hosted payloads in Geosynchronous Earth Orbit (GEO) and Highly Elliptical Orbit (HEO) and ground hardware and software. The system has four main objectives:
Missile Defense - Delivery of critical information supporting the effective operation of missile defense systems.
Missile Warning - Reliable, unambiguous, timely and accurate warning for theater and strategic missile launches.
Battlespace Awareness - Delivery of comprehensive IR data to help characterize battlespace conditions.
Technical Intelligence - Ability to characterize IR event signatures, phenomenology and threat performance data.
The GEO satellite is powered by two deployable sun-tracking solar arrays. The satellite will unfold to 49 feet x 22 feet x 20 feet and will have an on-orbit weight of 5,526 pounds including 430 pounds of fuel.
The first GEO launch was on May 7, 2011 and the most recent launch was on January 20, 2017. Both launched on Atlas V rockets. After SBIRS GEO-4, the USAF plans two more SBIRS satellites; GEO-5 and GEO-6, currently in production.
The SBIRS development team is led by the Remote Sensing Systems Directorate at the U.S. Air Force Space and Missile Systems Center, Los Angeles Air Force Base, California. Lockheed Martin is the SBIRS prime contractor, with Northrop Grumman Aerospace Systems as the payload integrator. The 460th Space Wing, Buckley Air Force Base, Colorado, operates the SBIRS system.
---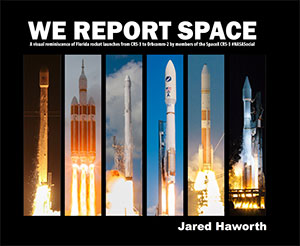 The Book
Stunning, full color photo book covering every east coast launch spanning 2014-2015, including the first-ever powered landing of a SpaceX Falcon 9 rocket.
More Info