EM-1: NASA's Journey to Mars takes another big step
---
Two events at Kennedy Space Center this week marked another milestone on NASA's Journey to Mars. The Orion capsule intended for Exploration Mission 1 (EM-1) was delivered to KSC aboard NASA's Super Guppy Turbine aircraft on Monday, February 1, 2016. Arriving at the former Shuttle Landing Facility on Monday afternoon, the Super Guppy transport had carried the EM-1 pressure vessel from NASA's Michoud Assembly Facility where it had undergone its initial assembly and welding.
After arriving at Kennedy Space Center, the Orion capsule was transported to the Neil Armstrong Operations and Checkout building, where it will undergo final assembly by NASA employees and Lockheed Martin contractors, who will install all of the spacecraft's internal systems, as well as applying the heat shield and tiled backshell. On Wednesday, February 3rd, members of the news media were invited to view the EM-1 spacecraft in the O&C building high bay, a location where the previous Orion capsule (EFT-1) was prepared, as well as spacecraft reaching all the way back in time to the Apollo program, including Apollo Command Modules and Lunar Modules. On hand to discuss Orion were NASA employees Scott Wilson (Orion Production Manager) and Mark Geyer (Deputy Director of NASA's Johnson Space Center), Dr. Stanley Love (Astronaut) and Lockheed Martin's Michael Hawes, LM's Orion Program Manager.
Photos
---
Super Guppy Arrives at KSC (Michael Seeley)
---
Orion EM-1 Spacecraft at Kennedy Space Center
---
Super Guppy brings EM-1 capsule to KSC (Jared Haworth)
---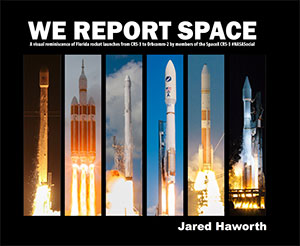 The Book
Stunning, full color photo book covering every east coast launch spanning 2014-2015, including the first-ever powered landing of a SpaceX Falcon 9 rocket.
More Info