Blue Origin sends flown New Shepard booster on a second journey.
---
Blue Origin has released a new video depicting the first re-use of their New Shepard launch vehicle, claiming bragging rights as the first launch service provider to have reflown a stage which crossed the Karman line, the landed vertically. The video (embedded below) includes a not so subtle jab at SpaceX, who have publicly stated that their Falcon 9 booster (which successfully crossed the Karman line and landed safely at Cape Canaveral in December 2015) will not be reflown but instead put on display, citing the historic nature of their achievement.
---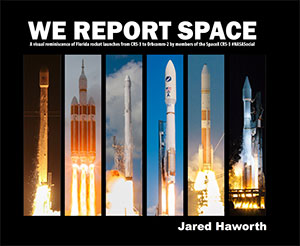 The Book
Stunning, full color photo book covering every east coast launch spanning 2014-2015, including the first-ever powered landing of a SpaceX Falcon 9 rocket.
More Info