What's on Board NG-18
---
What's On Board NG-18
Recently NASA hosted a panel discussion about some of the science experiments being carried to the International Space Station on Northrop Grumman Resupply Mission 18. The vehicle, named the SS Sally Ride, will be carried to the ISS aboard an Antares 230 with a scheduled launch date of 6 November at approximately 05:50 am. NG-18 will carry more than 800 Kg of science equipment, hardware and provisions along with more than 40 investigations including 20 new projects. The program was moderated by Lora Bleacher from NASA Headquarters. Seven researchers participated in the discussion.

The presentation was opened by Heidi Parris, NASA Johnson Space Center, who shared information regarding the benefits of space science and exploration for everyone. She noted that the ISS has been in orbit two decades and has conducted hundreds of experiments each year. For more information about the benefits search NASA's website for STATION BENEFITS.

Dr Anna Lisa Paul, University of Florida presented information regarding the natural changes plants raised in space appeared to display. This experiment will take plants to space, allow them to mature and then determine if the modifications displayed during growth on the ISS transfer to the next generation as DNA modifications.

Dr. William Olbricht briefly mentioned that there would be seven projects on board with 2 studies of cellular systems; bone growth and cardiac muscle cells.

After wildfires many areas on earth experience catastrophic mudflows. Dr. Ingrid Tomac, University of California at La Jolla, discussed the earth-bound situation then shared what they hoped to start with in space. The components of a mudflow are liquid water, sand or silt particles and fine air bubbles. It is expected that in low gravities the upward flow of air and downward flow of heavier particles will not be present. "The space-based experiments are successful if the effect of gravity on formation of air-bubble covered structures in air-water-sand slurry flow and transport is understood and quantified." The experiments will be conducted with two different slurry mixtures.

Dr. Andrea Fuso, in an experiment sponsored by NASA and the Italian Space Agency, will examine the effects of microgravity on cell cultures which could lead to improved fertility treatments and future human settlement in space. Of concern is how extended exposure to microgravity could affect fertility. These experiments could improve on human understanding of egg development, and provide targets for countermeasures and treatments.

Rich Bolling talked about the previous flight in 2019 of the BioFabrication Facility (BFF) and it's production of a human knee meniscus and human heart cells. In this second trip they are trying to determine if microgravity permits higher quality printing than ground-based processes. The knee meniscus is an often-damaged part of the human body and is a good subject for testing especially in anticipation of similar injuries during space travel.

The final set of investigations presented came from Timothy Kuhamba regarding the BIRDS-5 satellite. This device is the first satellite for Zimbabwe and Uganda in a cross border cooperative project with involvement from JAXA. Using an off-the-shelf camera and using high-energy electronic measuring instrumentation the neighboring countries will explore land use, make water quality assessments, and examine soil fertility. The biggest challenge to this project was the isolation and quarantines necessitated by the pandemic.

During follow-up questions Dr. Paul explained how plants will be compared. Since plants in microgravity do not have clues as to "up" the method they use is to reach toward light. Without a directional source of light, or total absence of lights then plants grow away from where they are planted in a spiral random walk.

Heidi Parris advised a questioner that the flight time of NG-18 is approximately 48 hours. She also mentioned that future ARTEMIS studies help inform NASA and the science community on future science studies, a new space suit and new environmental recycling.

For more information and to follow the launch please go to https://www.nasa.gov/northropgrumman
Photos
---
Antares 230+ / Cygnus NG-17
---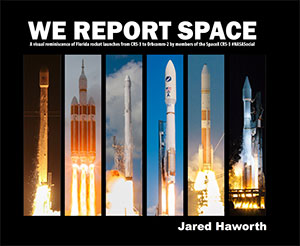 The Book
Stunning, full color photo book covering every east coast launch spanning 2014-2015, including the first-ever powered landing of a SpaceX Falcon 9 rocket.
More Info