SpaceX Launches Galaxy 33, 34 for Intelsat
---
Cape Canaveral S.F.S., FL. - Liftoff! After two scrubs, a third time was the charm for a launch at sunset and a near full moon rising. At 7:05PM EDT a Falcon 9 roared to life lofting the Intelsat Galaxy 33 and Galaxy 34 telecommunication satellites into orbit.
Taking those satellites towards orbit was first stage booster B1060 on its fourteenth flight. Shortly after launch the booster made a successful landing on the recovery ship "A Shortfall of Gravitas". Booster B1060 previously supported: Transporter-2, GPS-III SV03, TurkSat-5A and ten Starlink launches.
Photos
---
Falcon 9 / Intelsat G33-G34 (Michael Seeley)
---
Falcon 9 / Intelsat G33-G34 (Michael Howard)
---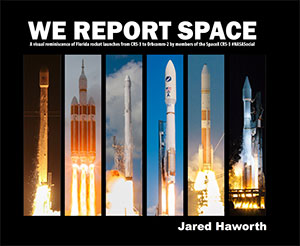 The Book
Stunning, full color photo book covering every east coast launch spanning 2014-2015, including the first-ever powered landing of a SpaceX Falcon 9 rocket.
More Info