Kennedy Space Center Visitor Complex previews new "Gateway" exhibit
---
Kennedy Space Center Visitors Center, FL. – Days ahead of the official grand opening, members of the media had a chance to get a "sneak peek" at the centers newest exhibit. "Gateway: The Deep Space Launch Complex" is an immersive experience where visitors can see actual flight flown hardware, scale models of current spacecraft as well as smaller models of currently used rockets.
Located next to the Rocket Garden, Gateway is designed to let you experience the present and the future of space exploration. Visitors can see a flown SpaceX Dragon capsule that flew the COTS-2 mission, a SpaceX Falcon Heavy side core booster used to launch the Tesla car into space as well, as the Lockheed Martin Orion EFT-1 capsule. Other exhibits include a scale model of the Boeing Starliner and the Sierra Space Dream Chaser.
Are you ready to fly into space? Visitors can choose from four visual experiences where you visit the "Spaceport KSC", board and strap into your own "spaceship" and journey into the heavens and return back to Earth.
In a statement from the Kennedy Space Center Visitor Complex: "Gateway: The Deep Space Launch Complex is a bold new attraction where guests will personally experience NASA's next giant leap and beyond highlighting all the excitement within the space industry," said Therrin Protze, chief operating officer, Kennedy Space Center Visitor Complex. "Guests will see a peek at the future of space travel with Spaceport KSC, an immersive experience with multiple journeys the guest can select to travel and learn through a thrilling simulated space flight."
Gateway officially opens June 15, 2022.
Photos
---
Kennedy Space Center Gateway Exhibit
---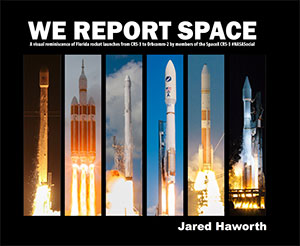 The Book
Stunning, full color photo book covering every east coast launch spanning 2014-2015, including the first-ever powered landing of a SpaceX Falcon 9 rocket.
More Info