VSS Unity Ushers In New Age of Commercial Spaceflight
---
Spaceport America, New Mexico – On July 11, 2021 a new chapter in the history of spaceflight was again made with the successful flight of the Virgin Galactic SpaceShip Two "VSS Unity". VSS Unity was carried into the launch area by the Virgin Galactic WhiteKnight Two "VMS Eve".
Sir Richard Branson's vision of flying into space today became personal as he and the other flight crew boarded "VSS Unity" for the flight to the very edge of space. After being released from "VMS Eve" and traveling past Mach 3, "VSS Unity" positioned itself for the crew to see the curve of our planet, Earth.
Minutes later, "VSS Unity" and its crew were safely back at Spaceport America.
In a statement from Sir Richard Branson: "We're here to make space more accessible to all. We want to turn the next generation of dreamers into the astronauts of today and tomorrow. We've all us on this stage have had the most extraordinary experience, and we'd love it if a number of you can have it, too," he said. "If you ever had a dream, now is the time to make it come true. I'd like to end by saying welcome to the dawn of a new space age."

---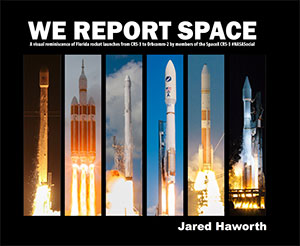 The Book
Stunning, full color photo book covering every east coast launch spanning 2014-2015, including the first-ever powered landing of a SpaceX Falcon 9 rocket.
More Info