SpaceX ISS Resupply Mission 22 Launches from Kennedy Space Center
---
Kennedy Space Center, FL. – Liftoff! This afternoon June 3, 2021, SpaceX launched the Falcon 9 and cargo Dragon at 1:29 PM EDT from Launch Complex 39A, sending the Crew Resupply Mission 22 (CRS-22) into orbit.
The cargo Dragon capsule is taking fresh supplies and experiments for the International Space Station (I.S.S.) including investigations into new therapies and pharmaceuticals for treating kidney diseases, plant experiments to identify varieties that would require less water and pesticides, along with an experiment using the bobtail squid that is being tested as a model for the effects of spaceflight and the interactions between beneficial microbes and their animal hosts.
These experiments are just a sample that are designed into each resupply mission to bring medical, scientific, biology and physical sciences to the orbiting laboratory. Advances in the various sciences will help to keep astronauts healthy during long–duration space travel and missions to the Moon and eventually Mars. An additional payload is the first two of six new sets of solar arrays for the I.S.S.
Shortly after launch, the first stage booster made a successful landing on the recovery ship "Of Course I Still Love You."
Photos
---
Falcon 9 / SpaceX CRS-22 (Michael Howard)
---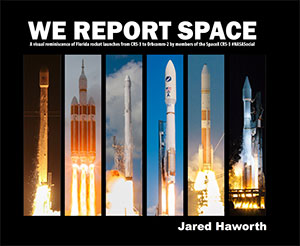 The Book
Stunning, full color photo book covering every east coast launch spanning 2014-2015, including the first-ever powered landing of a SpaceX Falcon 9 rocket.
More Info