OSIRIS-REx Begins Two Year Journey to Return Sample to Earth
---
Shortly after 4 PM EDT on May 10, 2021, the OSIRIS-REx spacecraft performed a seven-minute burn of its engines to begin a two-year journey to return to Earth. "In September 2023, the Sample Return Capsule (SRC) will be jettisoned from OSIRIS-REx. After the spacecraft performs a burn to divert from impacting Earth, the SRC will land under parachutes at the Utah Test & Training Range." - Mike Moreau, deputy program manager.
Because the spacecraft is 291 million miles from Earth, with a nearly 16-minute communications delay, detailed instructions for the burn were uploaded this past Friday to the spacecraft from the OSIRIS-REx Mission Support area in Littleton, Colorado.
Principal Investigator Dante Lauretta said "I am more emotional than I expected. I have an amazing sense of price and accomplishment as the spacecraft is now moving more than 600 Miles Per Hour away from Bennu. I am most excited about the abundant carbon and water in the sample. I am looking forward to the ground game."
Jason Dworkin, NASA Senior Scientist, explained that the SRC will be placed in a nitrogen-rich environment and flown to Johnson Space Center in Houston. "As an organic chemist, we have over 50 different hypotheses to test, including looking for left-handed versus right-handed amino acids. But 75% of the sample will be archived for future generations. Scientists who have not even been born yet will use equipment we can't imagine to test hypotheses that we can't even write yet."
Dr. Laurie Glaze, Director of NASA Planetary Sciences Division: "It is rare to collect a sample and bring it back to Earth. We often observe bodies via remote sensing. Actually collecting material from the surface of Bennu will help us to calibrate future remote sensing operations." Glaze outlined three future missons for small body exploration:
Lucy, launching in October 2021 will study 7 trojan asteroids in Jupiter orbit.
Double Asteroid Redirection Test (DART) Mission, launching in November of 2021 will test the kinetic impactor technique to redirect an asteroid.
PSYCHE, launching in Summer of 2022 will visit a unique metal asteroid orbiting the Sun between Mars and Jupiter. What makes the asteroid Psyche unique is that it appears to be the exposed nickel-iron core of an early planet, one of the building blocks of our solar system.
---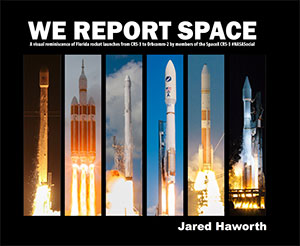 The Book
Stunning, full color photo book covering every east coast launch spanning 2014-2015, including the first-ever powered landing of a SpaceX Falcon 9 rocket.
More Info