SpaceX scrubs Starlink L-12 launch due to weather
---
Kennedy Space Center, FL. - Hold Hold Hold! Today, September 28, 2020, with just a few seconds to go in the countdown, SpaceX scrubbed the scheduled launch of the Falcon 9 rocket and the next installment of the Starlink constellation of internet satellites. Liftoff was scheduled for 10:22 AM, EDT from LC-39A. Today's scrub came due to weather violations.
After launch, SpaceX is landing the previously flown booster down range on "OCISLY". Once in orbit, this will bring the number of Starlink satellites to 775 of an estimated 12,000. According to the Starlink website, Starlink is targeting later this year for high speed internet service in the Northern U.S. and Canada to areas that have no access, unreliable access or simply too expensive access.
---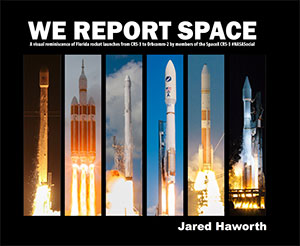 The Book
Stunning, full color photo book covering every east coast launch spanning 2014-2015, including the first-ever powered landing of a SpaceX Falcon 9 rocket.
More Info