NROL-44 launch now targeting September 26, 2020
---
Cape Canaveral Air Force Station, Fla., – After the launch attempt and hot fire abort at three seconds and counting back on August 29, 2020, an update of the United Launch Alliance (ULA) Delta IV Heavy, NROL-44 mission for the United States has been issued.
In a statement from ULA issued on September 17, 2020:
"The launch of a United Launch Alliance (ULA) Delta IV Heavy rocket carrying the NROL-44 mission for the National Reconnaissance Office is planned for Sept. 26, 2020. The launch period is 12:01-1:35 a.m. EDT. The team has reviewed all data and ground support equipment and determined that a ground system regulator internal component failure was the cause of the on-pad abort. Out of an abundance of caution all three regulators associated with each of the three common booster cores are being replaced and retested."
First launched in December 2004, there have been 11 Delta IV Heavy launches, eight from Cape Canaveral A.F.S and three from Vandenberg A.F.S in California. This will mark the 9th Delta IV Heavy mission for Cape Canaveral A.F.S, Florida.
---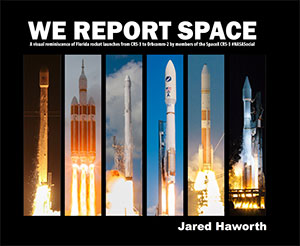 The Book
Stunning, full color photo book covering every east coast launch spanning 2014-2015, including the first-ever powered landing of a SpaceX Falcon 9 rocket.
More Info