Despite Hurricane Isaias NASA Planning on Crew Dragon Splashdown for Sunday August 2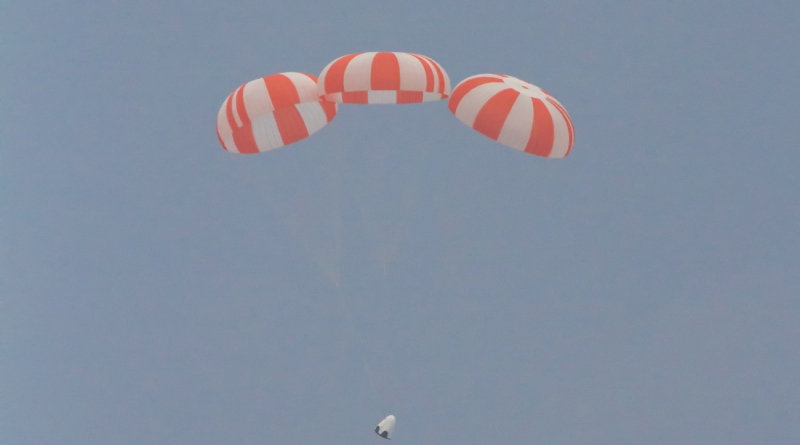 ---
CAPE CANAVERAL: Following a comprehensive review of the latest weather forecast in the areas surrounding each of seven potential splashdown locations, NASA and SpaceX have decided to move forward with plans to bring NASA astronauts Robert Behnken and Douglas Hurley home to Earth with a splashdown off the Florida coast on Sunday, Aug. 2, aboard the SpaceX Crew Dragon "Endeavour" spacecraft.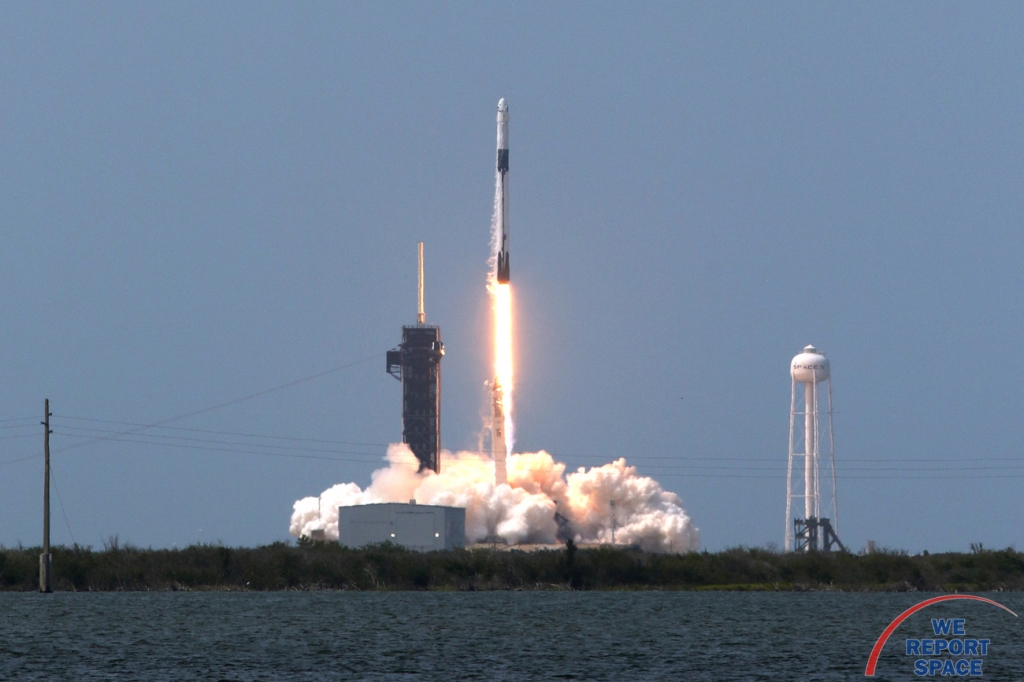 Astronaut Bob Behnken: "From a weather perspective, just like everybody else on the NASA and SpaceX team, we look forward to the weather forecasts that are coming out daily. On departure day, we will start to get forecasts every six hours. We are watching those closely, mostly to maintain awareness and see the trends. To understand what the timeline would be if our recovery out of the water would be delayed a little bit.
"We have confidence that the teams on the ground are watching that much more closely than we are. We won't leave the Space Station without some good landing opportunities in front of us. They are keeping us informed, but the lion's share of that work happens on their end. We don't control the weather. We can stay up here longer. There is more chow. I know the Space Station program has got more work that we can do."
NASA and SpaceX are capable of supporting seven splashdown sites off the coast of Florida for the return of Crew Dragon. The seven potential splashdown sites are off the coasts of Pensacola, Tampa, Tallahassee, Panama City, Cape Canaveral, Daytona, and Jacksonville.
Crew Dragon's return home will start with undocking from the International Space Station. There will be two very small engine burns immediately after hooks holding Crew Dragon in place retract to actually separate the spacecraft from the station. Once free, Dragon will execute four departure burns to move the spaceship away from the space station and begin the flight home. Several hours later, one departure phasing burn, lasting about six minutes, puts Crew Dragon on the proper orbital path to line it up with the splashdown zone.
Shortly before the final deorbit burn, Crew Dragon will separates from its trunk, which will burn up in Earth's atmosphere. The spacecraft then executes the deorbit burn, which commits Crew Dragon to return and places it on an orbit with the proper trajectory for splashdown.

Crew Dragon will be traveling at orbital velocity prior to re-entry, moving at approximately 17,500 miles per hour. The maximum temperature it will experience on re-entry is approximately 3,500 degrees Fahrenheit. The re-entry creates a communications blackout between the spacecraft and Earth that is expected to last approximately six minutes.
Dragon Endeavour has two sets of parachutes will that deploy once back inside Earth's atmosphere to slow down prior to splashdown. Two drogue parachutes will deploy at about 18,000 feet in altitude while Crew Dragon is moving approximately 350 miles per hour. Four main parachutes will deploy at about 6,000 feet in altitude while Crew Dragon is moving approximately 119 miles per hour.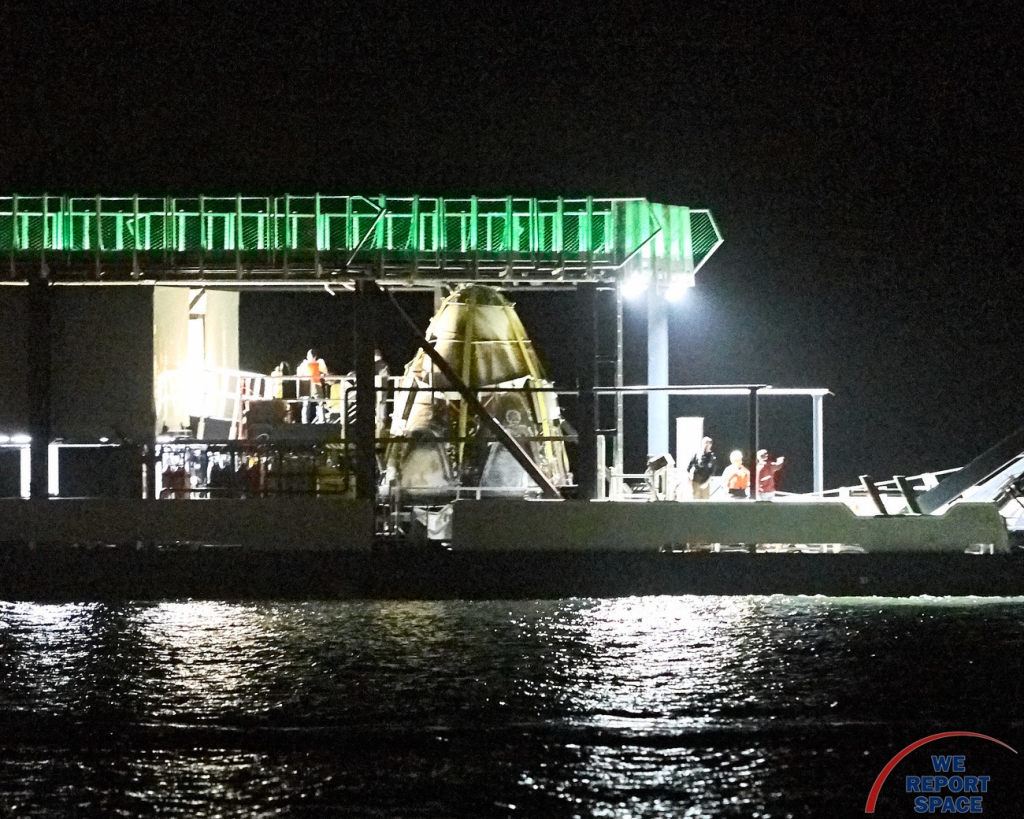 For splashdown at any of the seven potential sites, SpaceX personnel will be on location to recover the capsule from the water. Two recovery ships, the Go Searcher and the Go Navigator, split locations between the Gulf of Mexico and the Atlantic Ocean off the coast of Florida. On either ship will be more than 40 personnel from SpaceX and NASA, made up of spacecraft engineers, trained water recovery experts, medical professionals, the ship's crew, NASA cargo experts, and others to assist in the recovery.
Immediately after exiting the Crew Dragon capsule, Behnken and Hurley will be assisted into a medical area on the recovery ship for initial assessment. After initial medical checks, Behnken and Hurley will be returned to shore either by traveling on the primary recovery ship or by helicopter. Helicopter returns from the recovery ship are the baseline for all splashdown zones except for the Cape Canaveral splashdown site, with travel times ranging from approximately 10 minutes to 80 minutes. The distance from shore will be variable depending on the splashdown location, ranging from approximately 22 nautical miles to 175 nautical miles. Once returned to shore, both crew members will immediately board a waiting NASA plane to fly back to Ellington field in Houston.
Read more about Splashdown Criteria.
---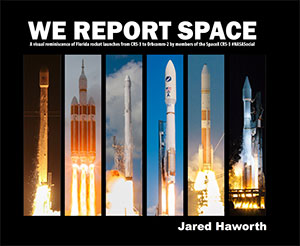 The Book
Stunning, full color photo book covering every east coast launch spanning 2014-2015, including the first-ever powered landing of a SpaceX Falcon 9 rocket.
More Info