SpaceX Launches GPS-III Satellite
---
CAPE CANAVERAL AIR FORCE STATION: A weather balloon from the 45th Space Wing Weather Squadron found that upper level winds cleared with just over four minutes left in the 15-minute launch window and SpaceX was able launch a GPS-III satellite for the United States Space Force at 4:10 PM on June 30, 2020.
This is the third launch of a third-generation GPS satellite. Known as GPS III SV03, it will soon join SV01 and SV02 which were declared operational in January and April.
Tonya Ladwig, Acting-Vice President, Navigation Systems, Lockheed Martin Space: "GPS III is the space portion of the Space Force's effort to modernize the entire Global Positioning System. GPS III now offers new technology and much greater capability over 29 of 31 of the current satellites in the GPS constellation. GPS III provides 3 times greater accuracy and up to 8 times improved anti-jamming power.
"Significantly, this satellite, GPS III SV03, will be the 22nd M-Code enabled satellite in the constellation -- just two short now of global coverage. M-code is a more-secure, harder-to-jam or spoof signal for our military forces.
"Meanwhile, back in Denver, GPS III satellite production continues at a rapid pace. If you looked out over our production floor at our GPS III Processing Facility, you would see seven satellites in flow. Like a commercial production line, our satellites move through work cells, from assembly… to test… to storage, before they ship to the Cape.
"If you were there right now, you would see GPS III SV 04 and SV05, completed, already declared 'Available for Launch' by the Space Force, and waiting to be called up. GPS III SV06, SV07 and SV08 are completely assembled space vehicles on the production floor and are currently going through post-assembly and environmental testing. GPS III SV09 and SV10 are in component build up."
---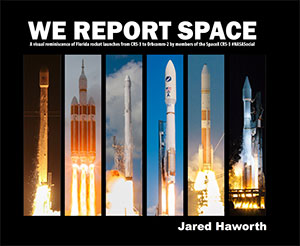 The Book
Stunning, full color photo book covering every east coast launch spanning 2014-2015, including the first-ever powered landing of a SpaceX Falcon 9 rocket.
More Info