Rocket Motors for First Artemis Moon Mission Arrive at Kennedy Space Center
---
KENNEDY SPACE CENTER: The rocket booster segments that will help power NASA's first Artemis flight test mission around the Moon arrived at the agency's Kennedy Space Center in Florida on Monday for launch preparations.
All 10 segments for the inaugural flight of NASA's first Space Launch System (SLS) rocket and Orion spacecraft were shipped by train from Promontory, Utah. The 10-day, cross-country journey is an important milestone toward the first launch for NASA's Artemis program.
"The arrival of the booster segments at Kennedy is just the beginning of the SLS rocket's journey to the pad and onward to send the Orion spacecraft to the Moon," said NASA Administrator Jim Bridenstine. "Artemis I will pave the way toward landing the first woman and the next man on the surface of the Moon in 2024 and expanding human exploration to Mars."

"It's an exciting time at NASA's Kennedy Space Center as we welcome Artemis flight hardware and continue working toward the Artemis I launch," said Kennedy Space Center Director Bob Cabana.
Each booster segment, weighing 180 tons, is filled with propellant and outfitted with key flight instrumentation. Due to their weight, Northrop Grumman, which is the booster lead contractor, transported the segments in specially outfitted railcars to make the 2,800-mile trip across eight states to Florida's Space Coast.
Now that the booster segments are at Kennedy, NASA's Exploration Ground Systems team will prepare them for assembly and integration activities that start with offloading the segments. Teams will attach the aft segments to the aft skirts and offload and store the remaining segments from the railcars in preparation for stacking.
With the arrival of the boosters, the only remaining pieces of hardware for the Artemis I flight test to be delivered to Kennedy are the launch vehicle stage adapter, which connects the rocket to the Orion spacecraft and will arrive this summer, and the SLS core stage, which will be transported to Kennedy by barge after the Green Run hot fire test later this year at NASA's Stennis Space Center near Bay St. Louis, Mississippi.
---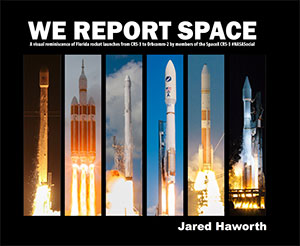 The Book
Stunning, full color photo book covering every east coast launch spanning 2014-2015, including the first-ever powered landing of a SpaceX Falcon 9 rocket.
More Info