OmegA Rocket To Be Stacked in VAB Highbay 2
---
KENNEDY SPACE CENTER: Pursuant to a Launch Services Agreement with the U.S. Air Force, Northrop Grumman is developing a new launch vehicle, OmegA. The company plans to assemble, test and launch OmegA at Kennedy and will use VAB High Bay 2 for assembly and testing, and modify MLP-3 for use as an assembly and launch platform. These two agreements, along with future agreements for use of NASA KSC services and property, including Launch Complex 39B, will enable Northrop Grumman's OmegA launch capability from Kennedy.
KSC Director Bob Cabana: "What an exciting time to be here on the Space Coast and at Kennedy Space Center. This is an iconic building. Fifty years ago, they were stacking rockets to go to the Moon here. Highbay 3, just down the way now has all the platforms in place to support the Space Launch System, Orion, and the Artemis program.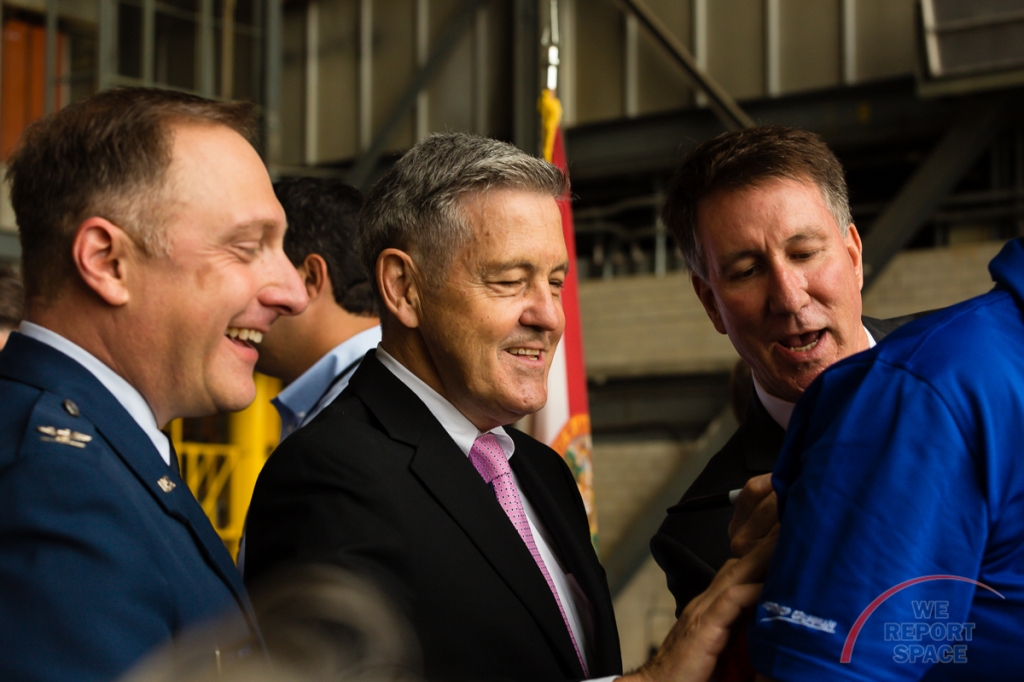 "What a transformation we've made here at KSC. I think back to 2011 when Atlantis landed (for the final time). We had 15,000 people working here. Atlantis landed on Thursday and on Friday, 2000 got pink slips and walked out the door. We went from 15,000 people to 7,500 people. But we are coming back and part of that is the commercial partnerships we are putting in place. And many of the workers from Northrop Grumman who will be working on an OmegA rocket were people who worked on Shuttle.
"We only need one highbay to support SLS. Isn't is great that we can use another highbay for the OmegA rocket."
Cabana noted that the new agreement with Northrop Grumman is one of 90 partner agreements in place.
Colonel Thomas Ste. Marie, Vice Commander of the 45th Space Wing: "This whole area has been home to innovation and the drive to be bolder. It started in the 1950's with Gemini, through Apollo, and now into this booking space commercial industry. The efforts, both governmental and commercial have fueled the economies and the imagination and the spirit of this community that we like to call the Space Coast. The 45th Space Wing, as directors of the Eastern Range proudly welcome OmegA. Just over three years ago, we set our sights on the Drive to 48 launches a year. This step today, marches us even closer to our goal. We look forward to their future successes here on the Space Coast."
Details on the OmegA Rocket
Northrop Grumman's Ken Rominger, Vice President of Strategic Programs provided details on the OmegA rocket: "It really is an honor to bring the first commercial system into this historical building. We will be re-using Mobile Launch Platform 3 that was used to launch Apollo 11. We truly are standing on the shoulders of giants. This event marks our partnership with KSC.
"Northrop Grumman's OmegA launch platform is unique: It has solid rocket motors and liquid propulsion systems as well. This configuration is kind of unique, but not unique to KSC. If you look at the Space Shuttle and SLS, they both also use solid rocket boosters and liquid propulsion. Our OmegA rocket spans the capabilities of everything that an Atlas-V to Delta IV Heavy can do."
The OmegA can fly with 0 to 8 strap-on rocket boosters. It will be available in both an Intermediate and Heavy configuration. The Heavy will include an extra stage and be 100 feet taller than the Intermediate.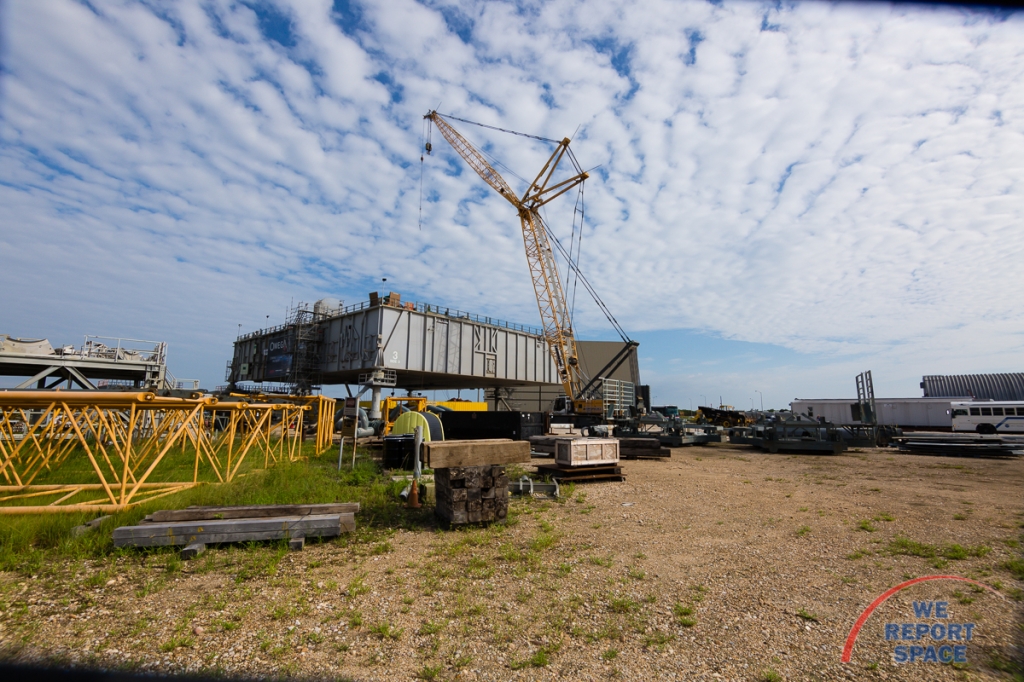 After the Ribbon Cutting, Northrop Grumman held a photo opp near MLP-3. Subject Matter Expert Jerry Close explained the work on MLP-3: "Most of the work to be done is on MLP-3. We are adding a 330 foot tall steel structure. It is a 36 by 36 footprint with elevators, wind stabilizer, access platforms. When we are done with our modifications, the MLP-3 will much more closely resemble the MLP-3 for the Apollo program. Within 3 months here, you will start to see the tower reach for the sky.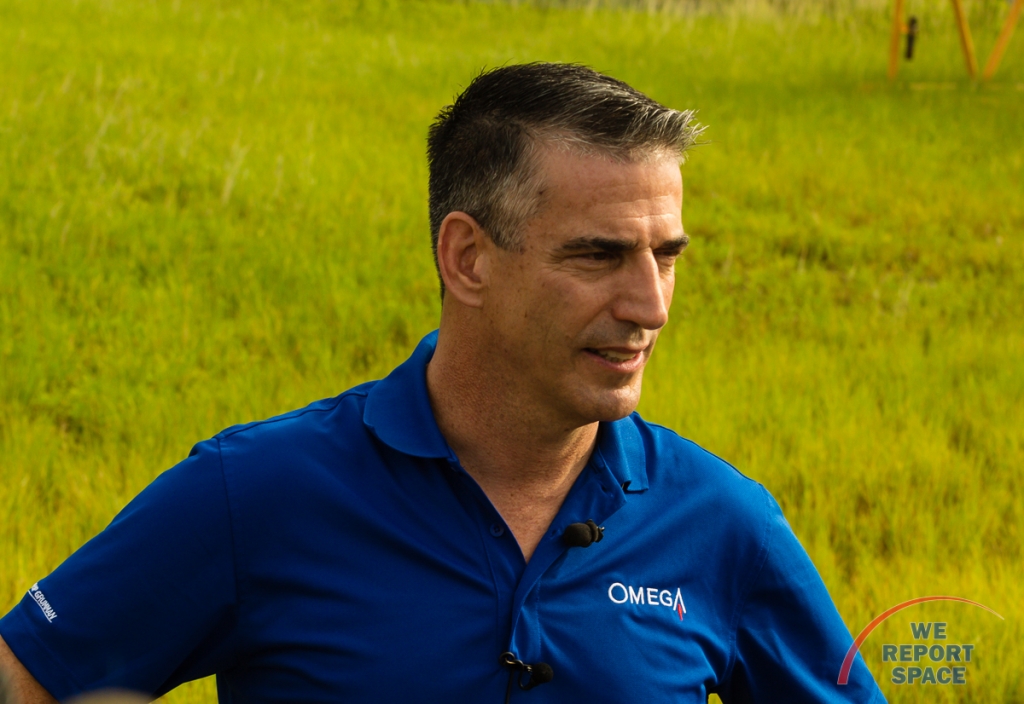 "The Shuttle configuration had an opening for the orbiter and then had two openings for the solid rocket boosters. We are actually filling in the solid rocket booster openings and leaving a single center hole to accommodate our single stick OmegA configuration - and that will be for the intermediate and heavy."
The first stage of the rocket will either be a stack of two or four solid rocket segments. The intermediate will fly with two segments stacked vertically. The heavy will fly with four segments stacked vertically. Those two extra segments will add 100 feet to the height of the OmegA.
Photos
---
OmegA Rocket Announcement
---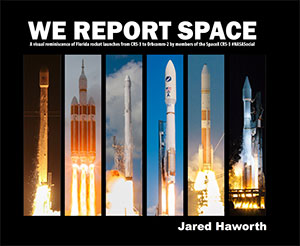 The Book
Stunning, full color photo book covering every east coast launch spanning 2014-2015, including the first-ever powered landing of a SpaceX Falcon 9 rocket.
More Info