Falcon 9 lifts heavyweight HispaSat 30W-6 to Orbit
---
CAPE CANAVERAL, FLORIDA: SpaceX's landmark 50th Falcon 9 launch, lifting HispaSat 30W-6 to orbit took place shortly after midnight on Tuesday, March 6, 2018 from Space Launch Complex 40. Marked as the heaviest satellite that SpaceX has lifted to Geostationary Transfer Orbit (GTO), HispaSat 30W-6 replaces the 30W-4 satellite covering the Mediterranean Sea and provides new Ka-, Ku- and C-band transponder service to Europe and Latin America over the next 15 years.
About GTO Launches
Satellites targeting a final Geostationary Earth Orbit (GEO) or Geosynchronous Orbit ultimately wind up appearing in a fixed position over the globe, as their orbital speed matches the rotation of the Earth. In order to limit space debris in the form of expended rocket stages from cluttering up these orbital locations, launch provides, such as SpaceX, will perform a launch to a Geostationary Transfer Orbit (GTO). A GTO launch places the satellite in an orbit which allows the onboard engines & propellant of the satellite itself to finalize its position in space, while leaving the rocket's second stage in an elliptical orbit around the Earth, allowing it to be de-orbited and destroyed in the atmosphere.
Inadvertent Expendability
SpaceX's Falcon 9 first stage bearing HispaSat 30W-6 was originally intended to be recovered downrange by the Autonomous Spaceport Drone Ship "Of Course I Still Love You," but weather conditions leading up to launch time prevented the recovery fleet from departing Port Canaveral and arriving on station in the Atlantic. Consequently, the first stage of the Falcon 9 performed its entry and landing burns before ditching in the ocean. Due to this last-minute change in recovery plans, the Falcon 9 booster took a set of expensive titanium grid fins on a one-way trip to the ocean floor -- fins that are normally slated for recovery given their cost & time to manufacture.
---
We Report Space's Michael Seeley covered this launch from Cape Canaveral Air Force Station. Pictures are available for purchase from Seeley's website, Photos of Stuff.
Photos
---
Falcon 9 / HispaSat 30W6 (Michael Seeley)
---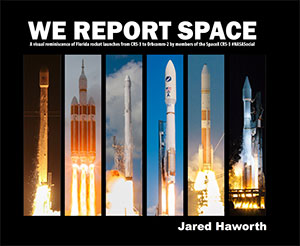 The Book
Stunning, full color photo book covering every east coast launch spanning 2014-2015, including the first-ever powered landing of a SpaceX Falcon 9 rocket.
More Info