SpaceX Sets Record for Launch Cadence with 3 Launches in 12 Days
---
KENNEDY SPACE CENTER: At 7:37 PM on Wednesday, July 5, 2017, SpaceX launched Intelsat-35e to orbit from Pad 39a. This was the third launch in 12 days, 4 hours, and 20 minutes. In particular, the ability to launch two rockets from Pad 39a in 12 days is unprecedented and shows that SpaceX has assembly capability that far surpasses their competitors at United Launch Alliance (ULA).
Launching from Both Coasts
On June 23, 2017 at 15:16, SpaceX launched BulgariaSat from Kennedy Space Center in Florida. 49 hours and 8 minutes later, SpaceX launched a Falcon 9 carrying 10 Iridium satellites from Vandenberg Air Force Base (VAFB) in California at 16:25 EDT on June 25, 2017. This is not a record for the U.S. Space Industry: On June 23 1960, two Atlas D rockets were launched on the same day: one at Cape Canaveral Air Force Station (CCAFS) in Florida and one at VAFB in California. In recent history, Boeing launched an Atlas II from CCAFS and VAFB on November 5 and November 8, 1997 for a 3-day gap from two different launch sites. ULA's record for the Atlas V from two coasts is a 12-day gap: TDRS-K launched from CCAFS on January 30, 2013 and Landsat 8 from VAFB on February 11, 2013 for a 12-day gap.
Launching from the Same Launch Pad
Far more telling is the fact that SpaceX was able to launch BulgariaSat and Intelsat-35e from the same pad with a 12-day gap. The rocket was actually ready to launch with a 9-day gap but the launch was aborted at T-8 seconds. In contrast, the shortest gap between two ULA Atlas V launches at CCAFS has been 29 days: MORELOS-3 on October 2, 2015 and GPS-IIF-11 on October 31, 2015. ULA has to stack their Atlas V on the Mobile Launch Platform inside the Vertical Integration Facility just south of Pad 41. The shortest gap between two Delta IV launches at CCAFS is 69 days: NROL-37 on June 11, 2016 and AFSPC-6 on August 19, 2016.
We Report Space asked SpaceX how they are able to rapidly process rockets faster than their competition. Gwynne Shotwell, SpaceX President & COO responded: "Our priority is to reliably launch our customers. SpaceX is able to attempt three launches for three customers in 12 days not only because we have the rockets, launch pads and droneships at the ready, but because we have the teams on the ground to get the job done. We are pleased with the progress we are making this year to launch and recover our rockets, which is key towards achieving full and rapid rocket reusability."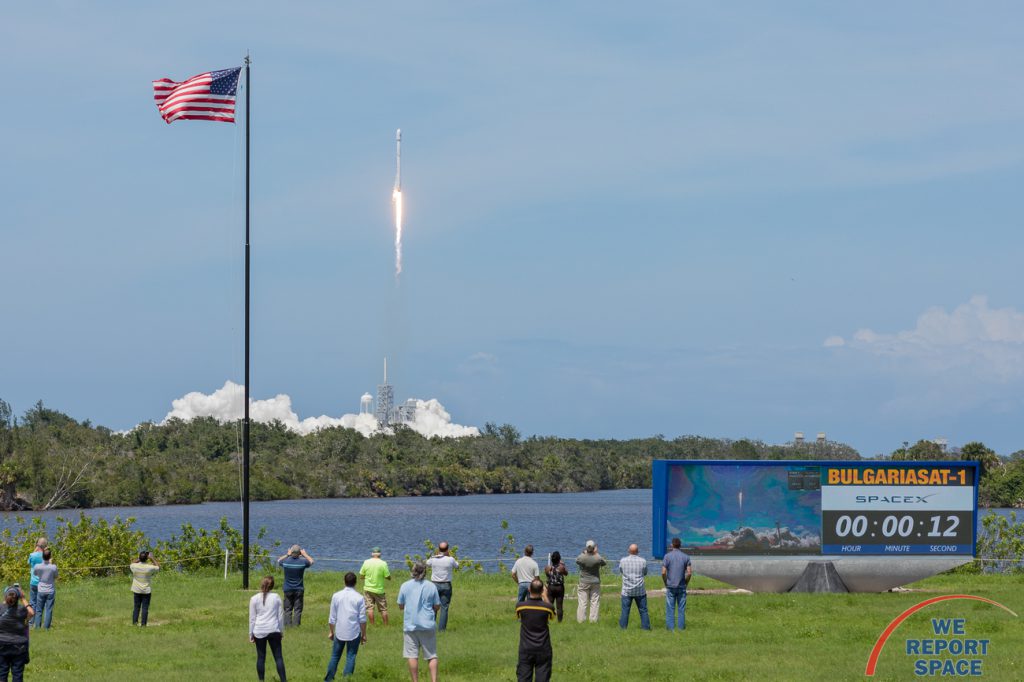 Launching from Two Pads on One Coast
There are other records to consider. In the 1990's McDonnell Douglass would process Delta II rockets at CCAFS and had two launch pads at their disposal. They launched SATCOM-C4 from Launch Pad 17B on August 31, 1992 and NAVSTAR II-15 from Launch Pad 17A on September 9, 1992. This is a 9-day gap and demonstrated McDonnell Douglass's ability to process rockets quickly. Later this summer, when SpaceX has the use of Pad 39A at KSC and SLC-40 at CCAFS, it would seem that they would be able to shorten the cadence to less than 12 days.
The record for 39A and 39B is an 11-day gap: a Saturn V launched Skylab from 39A on May 14, 1973 and then a Saturn 1-B launched from 39B on May 25, 1973 - an 11 day gap. The fastest Space Shuttle cadence was 16 days, achieved from January 12-28 1986 and June 27-July 13, 1995. But again, NASA had the use of two Crawler-Transporters and two launch pads.
The Drone Ship Seems to Be A Limiting Factor
Wednesday's launch did not attempt a landing. The BulgariaSat launch landed on the OCISLY drone ship on June 23. The recovered rocket core was finally offloaded on Saturday July 1, 2017. This would not have left enough time for the OCISLY to return the landing zone in the Atlantic in time for the first attempt of Intelsat-35e on Sunday, July 2. SpaceX already has three vessels in Port Canaveral: OCISLY, GO Quest and GO Searcher. In a June 29, 2017 article in Florida Today, Port Canaveral executives would not name the space companies expected to field a fleet of 8 or 9 vessels. We Report Space asked if SpaceX has plans for a second drone ship or plans to land two rockets on the same drone ship, but the company had no comment.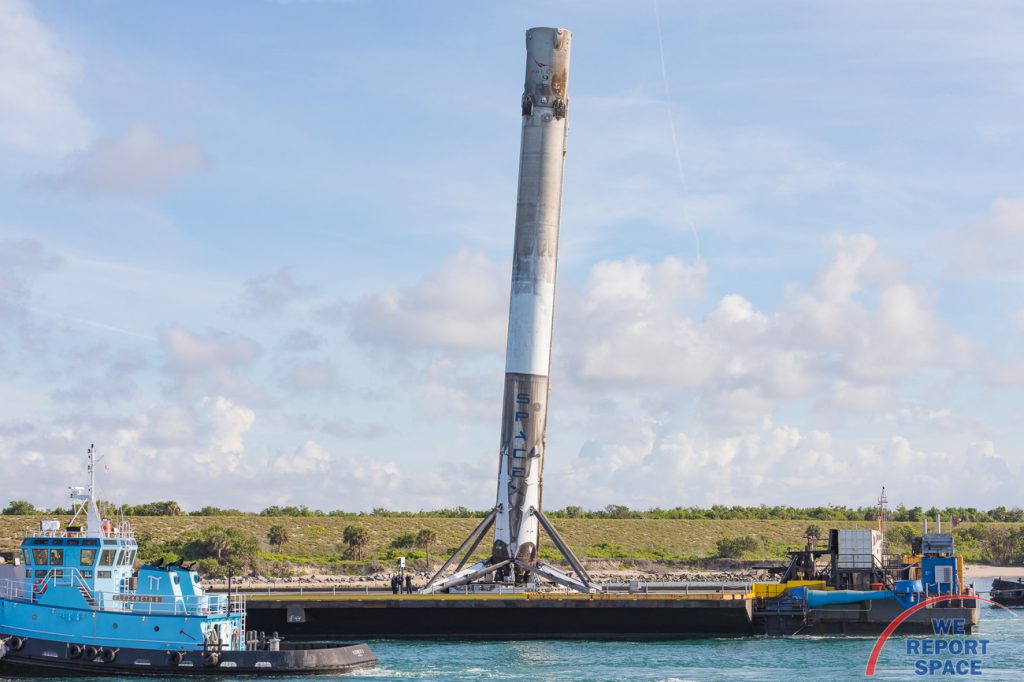 About Intelsat
Intelsat operates the world's first Globalized Network, delivering high-quality, cost effective video and broadband services anywhere in the world. Intelsat's Globalized Network combines the world's largest satellite backbone with terrestrial infrastructure, managed services and an open, interoperable architecture to enable customers to drive revenue and reach through a new generation of network services. The 35e satellite is being parked at 35 degrees west latitude. The "e" in the name is indicative of this being the fourth Epic next-generation satellite.
Replacing a 15-Year-Old Satellite
The 35e is replacing a 15-year-old 903 Satellite. The 903 is, amazingly, going to be redeployed. According to Diane VanBeber, Intelsat's VP of Communications:
"Intelsat 903 was designed for a long life...typically 15 to 16 years. With expert station keeping over the life of a satellite, Intelsat's core expertise, it is not unusual for a satellite to have remaining fuel at the end of the original design life. Intelsat manages its satellite fleet so that as older satellites come up for replacement, the older satellites are moved to other, secondary orbital locations within our portfolio of locations (We operate 50 satellites around the world today). From there, these satellites begin a new revenue-generating mission.
"Sometimes these older satellites are placed into "inclined orbit" operations. This is a further fuel-saving maneuver in which we stop commanding satellites for north-south maneuvers and instead only command east-west, such that the satellite stays at the right orbital location. In inclined operations, you can exchange many many years of continued service beyond what would have been possible in a station-kept mode. (As much as 8 years gained for every 1 year of station-keeping). These 'inclined orbit' satellites can be used for mobility applications for commercial or military customers."
In the Future: Moving a Satellite
VanBeber explained a new innovation expected in 2019, developed with Orbital ATK. In that instance, satellites are attached to a tug boat of sorts....we turn off our fuel, and let the tug do the towing for a while.
With thanks to Cliff Lethbridge and his launch chronology at http://spaceline.org/statistics/Cape_Canaveral_Launch_Chronology.html and to John Hilliard from the 45th Space Wing.
---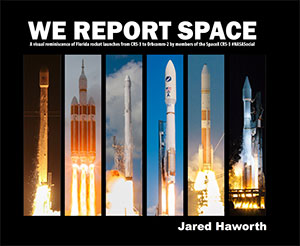 The Book
Stunning, full color photo book covering every east coast launch spanning 2014-2015, including the first-ever powered landing of a SpaceX Falcon 9 rocket.
More Info