First Mars Astronauts are Aged 8 to 18 Now - All 5th Graders Can Visit KSC for Free During Summer of Mars
---
KENNEDY SPACE CENTER: Astronaut Jon McBride appeared at Kennedy Space Center today to introduce the Summer of Mars. He pointed out that the first astronauts who will make it to Mars are currently between the age of 8 and 18. The KSC Visitor Center is offering free admission this summer to any student who is entering fifth grade this fall.
As part of the Summer of Mars theme, the Visitors Center commissioned a Mars Rover Concept vehicle designed by Parker Brothers Concepts in Port Canaveral. The vehicle will be parked in front of the Mars exhibit from June 5 through July 4th 2017.
Speaking after Astronaut Scott Kelly, McBride encouraged students to study hard and do their homework. "I was one of those kids who was not allowed our of the house until my homework was done. That's a good thing. When your parents make you do your homework, it is because they love you. We believe the first astronaut to walk on Mars is currently between 8 and 18. The young man or woman might be sitting right here in front of me today. We are offering the opportunity for any child anywhere in the world who is getting ready for the fifth grade to visit the KSC Visitor Center this summer for free." Students need to print out and complete the boarding pass for free admission.
McBride introduced the Mars Rover Concept Vehicle. "It will take just over a year to get to Mars. Something we have to invent is a vehicle to get us around Mars. We asked one of our local companies to build us a Mars Rover. I was fortunate enough to sit with them for a few days during the conceptual phase to explain what the astronauts would need. They came up with a beautiful vehicle. The Rover will be here at KSC until July 4th and then will be on a tour of the east coast."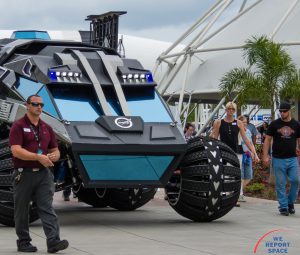 After most of the crowd dispersed, the team from Parker Brothers cautiously drove the vehicle to its home for the next month. Those big tires were designed for Mars but did not do well on the concrete at KSC. One of the tires began coming apart during the trip.
editors note: an earlier version of this article misspelled Jon McBride's name.  Our apologies!
[FAG id=1069]
Photos
---
Summer of Mars at Kennedy Space Center (Bill & Mary Ellen Jelen)
---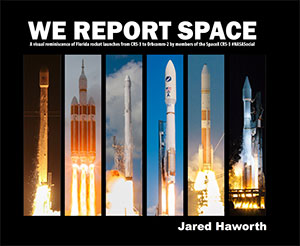 The Book
Stunning, full color photo book covering every east coast launch spanning 2014-2015, including the first-ever powered landing of a SpaceX Falcon 9 rocket.
More Info