Pence, Rubio Tour Operations at KSC
---
KENNEDY SPACE CENTER: Vice President Mike Pence addressed some KSC employees during a visit to Kennedy Space Center yesterday. Pence was joined by Senator Marco Rubio. On hand from NASA were KSC Director Bob Cabana, Acting NASA Administrator Robert Lightfoot, Astronauts Buzz Aldrin, Reid Wiseman and Pat Forrester.
Air Force Two touched down at the Shuttle Landing Facility, a site now leased by Space Florida. The Secret Service escorted Pence to the icon Vehicle Assembly Building, where the new Space Launch System (SLS) rocket and Orion spacecraft will be prepared. In Pence's remarks, he said: "Let us do what our nation has always done since its very founding and beyond: We've pushed the boundaries on frontiers, not just of territory, but of knowledge. We've blazed new trails, and we've astonished the world as we've boldly grasped our future without fear, from this 'Bridge to Space,' our nation will return to the moon, and we will put American boots on the face of Mars."
After Pence's remarks, he shook hands with employees and then was escorted to the Neil Armstrong Operations and Checkout Building (O&C).
At the O&C, several pieces of space hardware were on display with signs saying "Critical Space Flight Hardware - DO NOT TOUCH". At the Orion Heat Shield, Pence laughed as he touched the sign, pointing out that he was touching the sign, not the hardware itself.
Center director Bob Cabana showed Pence and Rubio some pieces of heat shield material.
Pence, Cabana and Lockheed Martin CEO Marillyn Hewson posed with a model of Orion.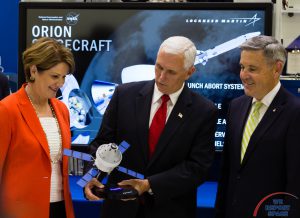 "We are in a great position here at Kennedy, we made our vision a reality; it couldn't have been done without the passion and energy of our workforce," said Kennedy Space Center Director Cabana. "Kennedy is fully established as a multi-user spaceport supporting both government and commercial partners in the space industry. As America's premier multi-user spaceport, Kennedy continues to make history as it evolves, launching to low-Earth orbit and beyond."
A driving tour showcased the mobile launch platform being readied for SLS flights as well as two commercial space facilities: Launch Complex 39A, the historic Apollo and shuttle pad now leased by SpaceX and used for commercial launches, and Boeing's facility, where engineers are prepping the company's Starliner capsule for crew flights to the space station in the same facility once used to do the same thing for space shuttles.
A collection of photographs from the day: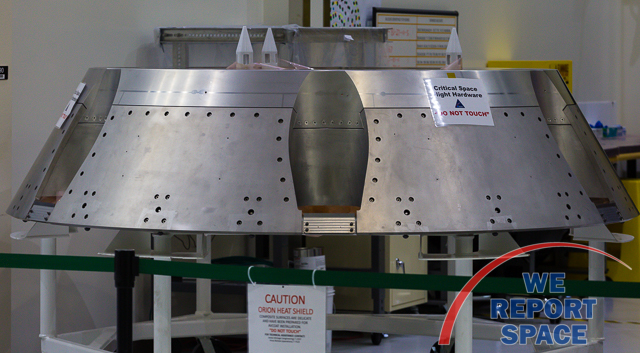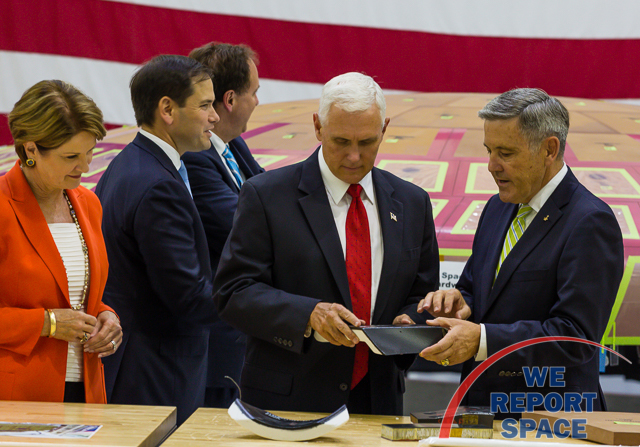 ---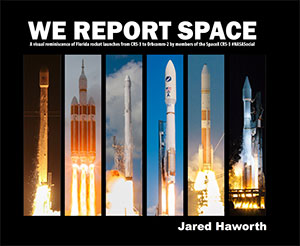 The Book
Stunning, full color photo book covering every east coast launch spanning 2014-2015, including the first-ever powered landing of a SpaceX Falcon 9 rocket.
More Info