Inmarsat Completes Their Broadband Constellation with SpaceX Launch
---
KENNEDY SPACE CENTER: A Falcon 9 rocket successfully launched the 4th satellite for the Inmarsat-5 broadband constellation on Monday May 15 2017 at 7:21 PM local time. Due to the weight and intended orbit of the satellite, SpaceX did not attempt to land the Falcon 9 first stage.
Inmarsat is a British-based provider of global mobile satellite communications. Their Global Xpress (GX) constellation is the world's first globally available, broadband connectivity service and was created to enable communities across the world to benefit from the emerging digital society.
Following satellite separation at 19:53 ET, Inmarsat acquired telemetry from their Perth ground station at 20:04 ET. The launch team from Inmarsat and Boeing Network & Space Systems, the manufacturer of I-5 F4, are now raising the spacecraft to a geostationary orbit, at which point the satellite will deploy its solar arrays and reflectors, and undergo payload testing.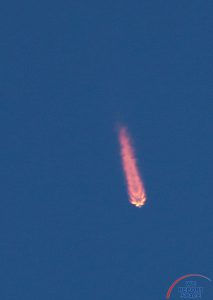 I-5 F4 joins the three GX satellites already in orbit, which have, since December 2015, been delivering unprecedented service speeds, global coverage, reliability and security to users on land, at sea and in the air. The fourth satellite adds further capacity to the GX network, as well as in-orbit redundancy that further upgrades the reliability and resilience of Inmarsat's service offerings.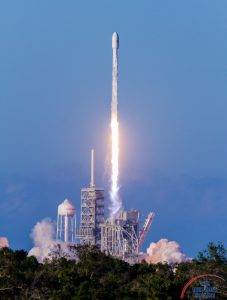 "For Inmarsat, reliability and resilience are paramount," said Rupert Pearce, CEO, Inmarsat. "Delivering global commercial services over the GX network, which we achieved at the end of 2015, was only the start of our Global Xpress project. I-5 F4 augments the capabilities of GX and, alongside our existing L-band constellations, enables Inmarsat to provide guaranteed global connectivity to industries and governments worldwide."
SpaceX And the 14-Day Launch Cadence
This was SpaceX's fifth launch in 2017 from Florida. All five of those launches happened from KSC Pad 39A while the SpaceX SLC-40 at CCAFS undergoes repairs. Just 14 days 12 hours and 2 minutes elapsed between the launch of NROL-67 on May 1 and this launch on May 15. This is the fourth time that SpaceX has been able to launch two rockets with only 13 or 14 days between the launches:
14 Days, 0 Hours, 52 Minutes between AsiaSat 6 and CRS-4 in September 2014
13 Days, 2 hours, 53 minutes between CRS-6 & Turkmenistan 52 in April 2015
14 Days, 16 Hours, 27 minutes between Echostar 23 & SES-10 in March 2017
14 Days, 12 Hours, 6 minutes between NROL-67 and Inmarsat-5 F4 in May 2017
SpaceX has three launches scheduled for KSC in June: CRS-12, BulgariaSat-1 and IntelSat 35e. If they hold to that schedule, they will demonstrate the capacity to maintain a 14-15 day cadence between launches. In contrast, the Atlas V requires 30-35 days between launches.
Including the January 14 launch from Vandenberg Air Force Base (VAFB) SpaceX has completed six launches in 2017. They have another twelve launches scheduled for Florida and seven additional VAFB launches. That would add up to 25 launches for 2017. In the past, SpaceX launched 6 times in 2014, 7 times in 2015, and 8 times in 2016. If SpaceX can maintain the current cadence, they will launch more times in 2017 than in the last three years combined.
---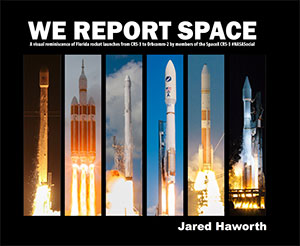 The Book
Stunning, full color photo book covering every east coast launch spanning 2014-2015, including the first-ever powered landing of a SpaceX Falcon 9 rocket.
More Info