SpaceX Re-flies Dragon Capsule for CRS-11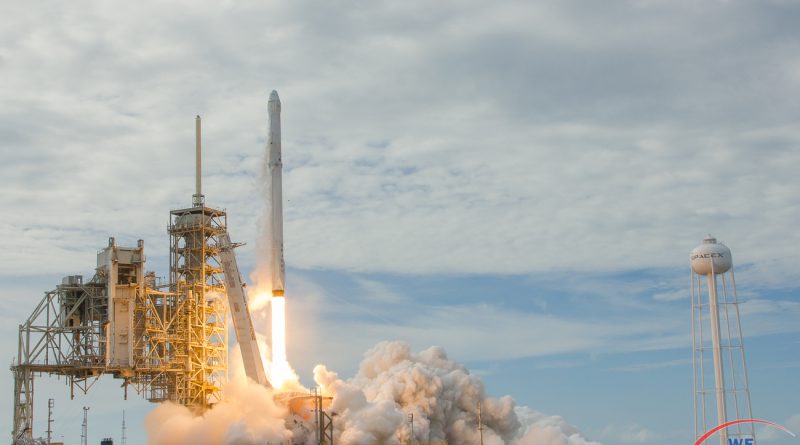 ---
KENNEDY SPACE CENTER: It was the 100th launch from Pad 39-A, but a Dragon capsule being re-used from CRS-4 was the star of the launch. At 5:07 PM EDT on June 3, 2017, SpaceX launched a Falcon-9 rocket with about 6,000 pounds of research equipment, cargo and supplies headed towards the International Space Station.
First Stage Successful Landing
The Falcon 9 first stage burned for 2 minutes and 22 seconds. After separation of the second stage at +0:02:25, the first stage boostback burn began at +0:02:38. As the first stage returned to Earth, it was slowed with an entry burn at +0:06:10 and executed a perfect landing at CCAFS LZ-1 at t+0:07:40. This is the fifth successful landing at Landing Zone 1 (formerly Launch Complex 13) at Cape Canaveral Air Force Station and the 11th successful landing overall. There have been five landings in the Atlantic on the drone ship OCISLY and one in the Pacific on the drone ship Just Read the Instructions.
As photographers were picking up their remote cameras outside of Pad 39A, a Beyel Brothers transport rolled past carrying what appears to be the newly painted Falcon 9 core that flew on CRS-8 and SES-10. The grid fins and legs were missing, but the mounting hardware for the legs was visible and covers were installed where the grid fins should have been. It seems hardly accidental that SpaceX arranged for the transport of that historic booster during the time that the media would be at Pad 39A. SpaceX CEO Elon Musk has indicated that the core would be on display in Cape Canaveral.
Re-Use of Dragon Capsule
This Dragon capsule originally launched on 21 September 2014 as CRS-4 and arrived at the ISS on 23 September 2014. It spent just over a month in space and splashed down on 25 October 2014. In the post-launch press conference, SpaceX VP Hans Koenigsmann explained that the CRS-4 capsule sustained the expected minimal damage from shaking upon return through the atmosphere. "SpaceX had worked to minimize damage from splashing down in the salt water environment". This is the first time that SpaceX has re-used a Dragon capsule.
Equipment on Board
Among the cargo in the Dragon unpressurized trunk is a Roll-Out Solar Array (ROSA). This experimental innovative solar array design is more compact than rigid solar panels. Once released, a series of one-piece composite split-tube booms will cause the ROSA to attenuate and deploy. ROSA significantly improves the power density and stowage efficiency and scalability over current rigid panel array technology and shows high promise for consideration on all future NASA, Department of Defense (DoD) and commercial spacecraft.
A variety of Earth-observing sensors will be mounted in the Multiple User System for Earth Sensing Facility (MUSES) flown aboard CRS-11. MUSES is extracted on-orbit from the SpaceX unpressurized trunk using the Special Purpose Dexterous Manipulator (SPDM), and locked in its mounting location in Express Rack #6 in the US Laboratory. The sensors will be grappled and mounted (or unmounted) in space. MUSES can accomodate up to four instruments at the same time. Instruments such as high-resolution digital cameras or hyperspectral imagers can be installed, upgraded, changed out or robotically serviced. The end-user data products generated from the Hosted Payloads flown on MUSES can be used for: Maritime Domain Awareness, Agricultural Awareness, Food Security, Disaster Response, Air Quality, Oil/Gas Exploration, Fire Detection, and Heritage Preservation.
NASA will investigate the densest known objects in the universe using the Neutron star Interior Composition Explorer (NICER). It will provide high-precision measurements of neutron stars, objects containing ultra-dense matter at the threshold of collapse into black holes. NICER will also test — for the first time in space — technology that uses pulsars as navigation beacons.
Photos
---
Falcon 9 / CRS-11 (Bill & Mary Ellen Jelen)
---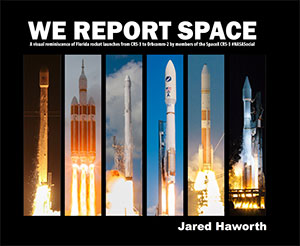 The Book
Stunning, full color photo book covering every east coast launch spanning 2014-2015, including the first-ever powered landing of a SpaceX Falcon 9 rocket.
More Info