George Diller Says Lift Off! One Last Time for Orbital ATK OA-7
---
CAPE CANAVERAL: If you watch launches on NASA TV, you are likely familiar with the voice of George Diller, a public affairs representative at Kennedy Space Center for 37 years. Diller is retiring at the end of May and thus performed his final countdown and Lift-Off voiceover as Orbital ATK OA-7 sent 7,100 pounds of cargo atop a United Launch Alliance Atlas-V rocket at 11:11 AM local time on 18 April 2017. Diller was thanked by former shuttle astronauts Frank Culbertson and Bob Cabana for his service to NASA.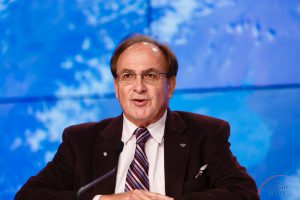 Diller is known for announcing the count: "Ten, nine, eight, seven, six, five, four, three, two, go for main engine start, one, zero and lift off..." He then delivers a pre-planned message about the mission. For today, his message was "Lift off of the Atlas V rocket & Cygnus with the SS John Glenn, extending the research legacy for living and working in space."
This is the fourth flight of an enhanced Orbital ATK Cygnus spacecraft, and the third using the Atlas V launch system. The spacecraft for this mission is named in honor of John Glenn, the first American to orbit Earth. Glenn, who died in December at age 95, was one of NASA's original seven astronauts and a retired U.S. Senator from Ohio.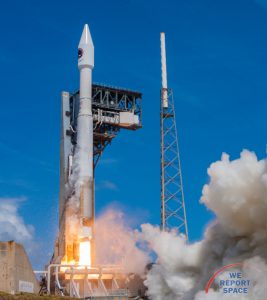 Orbital ATK OA-7, the Spirit of Cooperation
While the cargo is being carried by an Orbital ATK Cygnus spacecraft, the launch was subcontracted to United Launch Alliance. Flying in the 401 configuration, the Atlas provided additional lift necessary to deliver extra cargo to the ISS. Cygnus is scheduled to berth on Saturday, April 22, 2017, just two days after a Soyuz MS-04 arrives on Thursday with Expedition 51 crewmembers Jack Fisher, Peggy Whitson, and Fyodor Yurchikhin.
Watching a Rocket Disappear in 360 Degrees
NASA touted the "first-ever" live broadcast of a rocket launch in 360 degrees. At 10 minutes before launch, a 360-degree view camera located just southeast of the rocket went live at YouTube. Buffering issues caused the video to freeze shortly before launch. One second, the rocket was visible, and the next frame, the rocket was gone.
Fire in Space (on Purpose)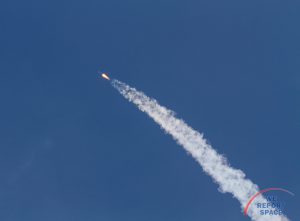 Half of the resupply missions are being flown by SpaceX and their Dragon capsule. The Dragon returns to Earth with science experiments. One unique benefit of the Cygnus spacecraft is that it is designed to burn up on re-entry. This allows for two unique experiments to be planned for the Cygnus return flight. Saffire-III is the third in a series of experiments to ignite a large-scale fire in microgravity. The investigation will occur this summer, when the trash-filled Cygnus resupply vehicle departs the ISS with Saffire onboard. While in space, after traveling a safe distance from the station, the fire is lit and data is collected before re-entering the Earth's atmosphere. The experiment lasts about two-and-a-half hours, of which 20 minutes is the actual burn of a fabric panel measuring .4 meters wide by 1 meter long. The experiments were designed to improve understanding of fire growth in microgravity and safeguard future space missions.
The Thermal Protection Material Flight Test and Reentry Data Collection (RED-Data2) investigation studies a new type of recording device that rides alongside a spacecraft as it reenters Earth's atmosphere, recording data about the extreme conditions it encounters. Scientists, so far, have been unable to monitor those conditions on a large scale, and a better understanding could lead to more accurate spacecraft breakup predictions, better spacecraft designs, and materials capable of better resisting the extreme heat and pressure during the return to Earth.
Taller Than Veggie - Advanced Plant Habitat
Flying on Cygnus is a new Advanced Plant Habitat. (APH) Designed to be more robust than the Veggie experiment flown on CRS-3, the Advanced Plant Habitat is tall enough to allow a plant to flower and then produce seeds. Being able to generate seeds is essential for a longer mission such as a trip to Mars. The initial harvest from the APH will be returned to Earth for testing.
Other experiments include magnetized tools to make it easier to reproduce experiments on Earth and an antibody investigation that could increase the effectiveness of chemotherapy drugs for cancer treatment. Cygnus also is carrying 38 CubeSats, including many built by university students from around the world as part of the QB50 program, which are scheduled to deploy from either the spacecraft or space station in the coming months.
The Orbital ATK Cygnus will remain on the station until mid-July when it will depart with several tons of trash for a fiery re-entry into Earth's atmosphere.
Photos
---
Atlas V / OA-7 (Mary Ellen Jelen)
---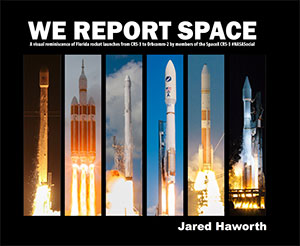 The Book
Stunning, full color photo book covering every east coast launch spanning 2014-2015, including the first-ever powered landing of a SpaceX Falcon 9 rocket.
More Info