SpaceX Recovers Payload Fairing & Re-Flown Booster for SES-10
---
KENNEDY SPACE CENTER, FL: For the first time, SpaceX has successfully re-used a Falcon 9 first stage. At 6:27 PM on Thursday March 30, 2017, Falcon 9 Booster #21 lifted the SES-10 satellite from Pad 39A. Less than 10 minutes later, the Falcon first stage landed on the SpaceX drone ship in the Atlantic ocean. Shortly thereafter, SpaceX also recovered one-half of the payload fairing, another first in space flight.
SES-10 is SES's first satellite designed exclusively to serve the thriving markets of Latin America. With 55 Ku-band transponder equivalents, SES-10 will be one of the biggest satellites covering Latin America and will provide significant capacity expansion to support SES's reach in the region. SES-10's high powered beams will cater to the various business needs across the entire Latin America region, serving the video market as well as the data and mobility sectors across Mexico and the Caribbean, South America and Brazil. SES-10 was built by Airbus Defence & Space and is based on the Eurostar E3000 platform. It is designed to operate for 15 years in geostationary orbit.
After the deployment of the satellite, SES Chief Technical Officer said: "Amazing day. Amazing mission. Acquisition of the satellite 35 minutes earlier than we expected. We made a bit of history today. Opened the door to a whole new era of Spaceflight. To be part of that, I feel very privileged. SpaceX engineering is second to none. Elon asks very simple profound questions and gets good answers and the proof is in the pudding - here we are. After SpaceX flew SES-8 to GTO, I think the launch industry started shaking in their boots. After today, they will be really shaking in their boots. I predict in 24 months that SpaceX will be offering a service to orbit and the question of if the first stage is new or second hand will be irrelevant."
SES is planning on using a flight-proven booster for 2 of their next 3 launches. Elon Musk predicted there would be six boosters re-flown this year. Two would be used for the side-boosters on the test flight of the Falcon Heavy. He said other customers had expressed an interest with the contingency of seeing if the SES-10 mission was successful.
Elon Musk is going to offer the re-flown first stage to stay at the Cape as a historical artifact.
15 Years in Development
Elon Musk: "Yeah, this is a huge day. My mind is blown, frankly. It was a tremendous amount of work by a very talented team. We spent over a billion dollars to develop reusability." That billion dollar investment is why you won't see a large discount in launch costs immediately. Musk predicted that the economics of reusability would become sensible next year. Musk predicted six re-flown first stages would be used in 2017 and double that in 2018. "The potential is there for a hundred-fold decrease in the cost for access to space," noted Musk.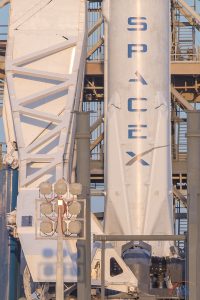 Recovering the Payload Fairing
During the post-launch press conference at Kennedy Space Center, Elon received some breaking news. He had confirmation that SpaceX had recovered one-half of the payload fairing. "The fairing is a 5-meter diameter component large enough to hold a bus. It costs us six million dollars. I asked the team: if you had a pallet with six million dollars in cash speeding towards the ocean, would you try to recover that before it crashed into bits?" Musk said they used a combination of a thruster control system and steerable parachutes to guide the fairing to a soft landing. He said in the future, they would try to land the fairing on the equivalent of a high-tech bouncy house. The portion of the fairing recovered is the half with the American flag. There was no indication if they had tried to recover the half of the faring with the SES logo.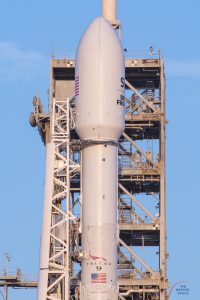 Steps Towards Faster Reusability
To date, SpaceX has landed eight first stages. It took one year for the first to be re-flown. The goal is to be able to recycle and re-fly in 24 hours. Musk: "We were paranoid with this first rocket, so we replaced a lot of hardware. Anything that seemed fragile was replaced. Going forward, the main areas of concern are the base heat shield and the grid fins. Currently the grid fins are aluminum with thermal protection. You could see it on the SpaceX webcast today: the grid fins are lighting on fire during re-entry. That is is not good for reusability. We have a new design for the grid fins - it will be the largest titanium forging in history. The titanium can take a scorching."
Musk also said that they are working on a thermal coating for the rocket instead of the paint which currently burns off during re-entry. "Our aspiration will be zero hardware changes and re-flight within 24 hours. That may not happen this year, but it is possible next year. There will be a lot of on-board status checks to tell us that the rocket is ready for re-flight.
"Altitude is not the thing that is hard on rockets. To achieve GTO, the spacecraft has to have very high velocity. That high velocity leads to a lot of heat on re-entry. Heat on re-entry can be a good thing - it is the reason a lot of meteors get vaporized instead of striking Earth. While that is great for meteors, we don't want to vaporize the rocket. The heat build-up is a cube relationship with velocity. Going from Mach 1 to Mach 8 on re-entry causes 500 times more heat build-up. Thermal protection is heavy and expensive, so you need to have thermal protection in just the right areas. We've already improved our base heat shield. We have the new plan for the grid fins.
"The current Falcon 9 design can be re-flown ten times with no refurbishment. With some moderate refurbishment, you can get 100 flights. Our next rocket is being designed for reusability. The primary booster can be reflown in one hour. The significance of today's re-flight is proving that it will be possible to have a 10-fold improvement in the cost of spaceflight."
Update on the Future
Elon Musk noted a late-summer goal for the Falcon Heavy. "We need to get (launch complex) 40 up and running again. The Heavy is a high-risk flight. You are lighting 27 engines all at once. We thought of naming it the Falcon 27 but that sounded too scary. At first, it sounded easy to attach three rocket cores, but it has been crazy-hard. We are done with testing. We can finish qualification in 2-3 months. We need to be flying from 40 again before we launch the Falcon Heavy. We can't risk an anomaly on 39A and then we would have no functioning pad. The Falcon Heavy is a lower priority than our current customer backlog. Two side boosters will land at the Cape in a synchronized ballet."
He also talked about having people living on Mars: The current cost-per-ton of getting materials to Mars is more than the Gross World Product. You need to achieve a 100- or 2000-fold decrease in launch cost if we ever want to have permanent settlements on Mars. We need to do that in our lifetime. And, we need to do it without bankrupting the company."
Photos
---
Falcon 9 / SES-10 (Mary Ellen Jelen)
---
Falcon 9 / SES-10 (Michael Seeley)
---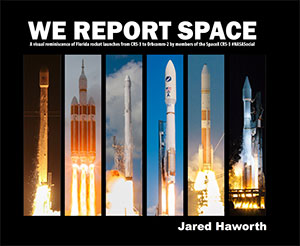 The Book
Stunning, full color photo book covering every east coast launch spanning 2014-2015, including the first-ever powered landing of a SpaceX Falcon 9 rocket.
More Info