The State of Our NASA is Strong
---
"When you experience all of the work that is going on here at Langley today, tell people how you feel." – Charles Bolden, Jr. (Maj. Gen. USMC-Ret), NASA Administrator
~*~
On February 9, 2016 I was offered the opportunity to tour NASA's Langley Research Center (LRC) facilities and attend the State of NASA Address as a social media press correspondent with NASA Social.
Though my primary interest in science and current field of study lies in biochemistry and genetics, I have always been a HUGE space nerd. The opportunity to be a part of NASA Social made me feel like a kid at Disneyland.
I arrived at the Reid Conference Integrated Engineering Services Bldg. at approximately 9:30am where I was greeted by other members of the NASA Social all eager to experience and explore all of the things that NASA's Langley base had to offer. After updating our social media account, taking more selfies than we could count, and charging our plethora of mobile devices, we were greeted by Rob Wyman, Head of the Office of Communications and given a welcome by Clayton Tumer, Deputy Director of NASA LRC.
Deputy Director Tumer gave us an overview of the work being done in research, design, and experimentation at NASA LRC. Despite the fact that Tumer's main topic focused on the scientific endeavors of teams at LRC, he made one thing abundantly clear – that "the magic is in the people".
And that is what stuck with me most in that moment and throughout the rest of the day.
At this point, things began to feel a little strange. The hosts and speakers seemed to be stalling, waiting for something that was clearly not on the schedule… And that's when NASA Administrator Charles Bolden walked in.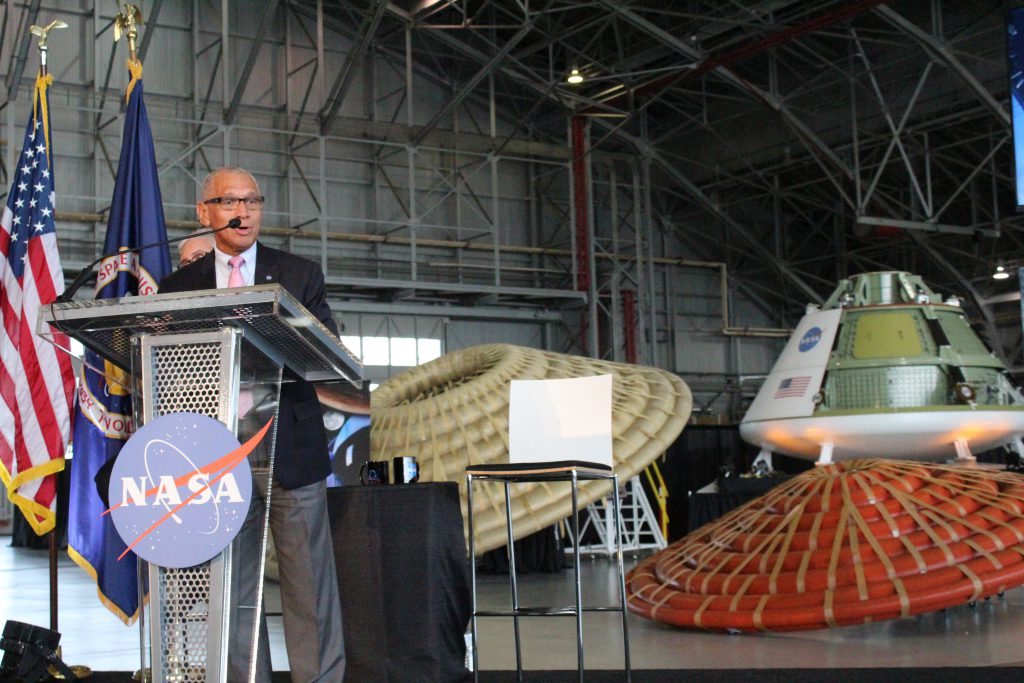 I have had the unique opportunity to meet and interact with some of my personal heroes in the STEM fields, but that couldn't compare to the childlike excitement of being able to have a exclusive talk (there were only about 15 other people in the room) with Charles Bolden. During his brief talk with us, Bolden emphasized that in this and any involvement we have with NASA, the most important part of the experience is to "look up", to enjoy and be immersed in the fullness of the experience.
A tour of the NASA LRC Facilities
Our first stop on the tour was to visit the National Transonic Facility, home of one of the most prolific wind tunnels in existence. To date, NTF has provided the highest quality of flight Reynolds number aeronautical data to the research, industry, and Department of Defense communities.
Up next was a demonstration of uncrewed autonomous vehicles at the Autonomy & Robotics Center led by Danette Allen of the Crew Systems & Aviation Operations Branch. This was one of my favorite parts of the day. Being inside of the Autonomy Incubator (where they test autonomous vehicles) took me back to my high school in my Research Design class in the Science, Math, & Computer Science (SMCS) program at Poolesville High School. Our teachers teamed up to build an entire "unknown terrain" for us on a planet they christened "Falconia" (after the school's mascot). The research, experimental design, computer programming, data collection proposals, and engineering techniques that they taught us were a simpler, more concise version of everything being done in NASA's LRC Autonomy Incubator. Realizing in that moment how well the teachers in SMCS had equipped me to go out into the "real world" of STEM and be an active, contributing member of the field fills me with a sense of appreciation that even in this moment, almost brings me to tears. Their dedication to my education is what allowed me to truly do what Bolden implored – to be fully immersed in my experiences at NASA because I was able to understand the information being presented.
Reflections
Though there was much more to our day, the culminating event was of course, the State of NASA Address. While I won't take the time to go into everything that was discussed (you can watch it online and see me front and center), I will say that I was incredibly moved by Charles Bolden's speech. Bolden stated that as a child, he could have never imagined living in a time where the President of the United States is an African-American man, where he – a young, black boy from the segregated south – would be the Administrator of NASA, where for the first time in history the current astronaut class has an equal number of men and women, not to mention the fact that we are quite literally headed for other worlds. Growing up, Bolden could have never imagined these things, but this is the world I have grown up in. This is the society I am privileged to be a part of. While I harbor no delusions about the fact that we still have a long way to go, we are making great strides in the right direction and I intended to be a part of this movement forward at every possible step.
I wish I could put into words the amount of gratitude I felt towards each and every individual who has played a role in my education and scientific endeavors thus far. On the way home, I updated my Facebook status with the statement: "lol I cried at NASA today", but the honest truth is that I cannot even begin to communicate the overwhelming sense of pride, gratitude, inspiration and wonder I felt after being able to attend and experience the State of NASA in such an amazing capacity.
Moments and experiences like these are what motivate me to do more in my field and to be more. Beyond just the inspiration at NASA to explore the unknown, I am reminded of my opportunities to explore right here at home. I am reminded of the people who have paved the way to allow me to even have those opportunities. People like Dr. Marie Maynard Daly, Katherine Johnson, and Dr. Mae Jemison who broke down barriers and laid the first stones for girls like me to follow our dreams. People like my parents who have made countless sacrifices and my family who continue to support me in chasing after my goals. People like my teachers – from S. Christa McAuliffe Elementary, to Roberto Clemente Middle School, to Poolesville High School – whose unrivaled dedication to my growth and education is something I am grateful for each and every day.
These people inspire me to be the best at whatever I choose to do and to set an example for other young girls like myself who may not have the amazing support that I do.
Working at NASA has always been a dream I've held close to my heart. I hope that one day I can look back to all of the people who helped me to reach my goals and say to them that "the state of our NASA is strong".
---
Anicca Harriot can be found on Twitter and Instagram under the username 13adh13, and maintains a tumblr account at bite-o-chemistry.tumblr.com. We're thrilled that Anicca has allowed We Report Space to share her NASA Social experience. Do you have a NASA Social story to share with us? Visit our contributors page to learn how to get your story featured here!
---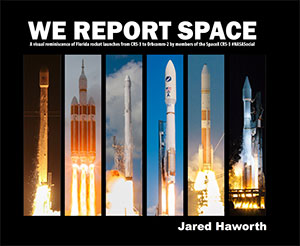 The Book
Stunning, full color photo book covering every east coast launch spanning 2014-2015, including the first-ever powered landing of a SpaceX Falcon 9 rocket.
More Info